If you're visiting Bideford during the summer, make sure not to miss the highly anticipated Bideford Soapbox Derby.

This thrilling event showcases the town's spirit of friendly competition and community unity.

Get ready for an exhilarating experience as homemade soapbox vehicles race down the iconic High Street course, captivating spectators of all ages.
Key Takeaways
The Bideford Soapbox Derby is an annual event in Bideford during the summer.
The highlight of the event is soapbox racing, where teams of drivers compete with their homemade vehicles down the High Street course.
The event raises money for a local charity, so you will be supporting a good cause while having fun.
The soapbox derby is free to watch, and there will be plenty of entertainment.
Brief History of Soapbox Derby
The Soapbox Derby in Bideford began in 1953 when local enthusiasts proposed a gravity-powered race inspired by an event in Cincinnati.
With council support, a challenging route was designated, and the first race took place on High Street.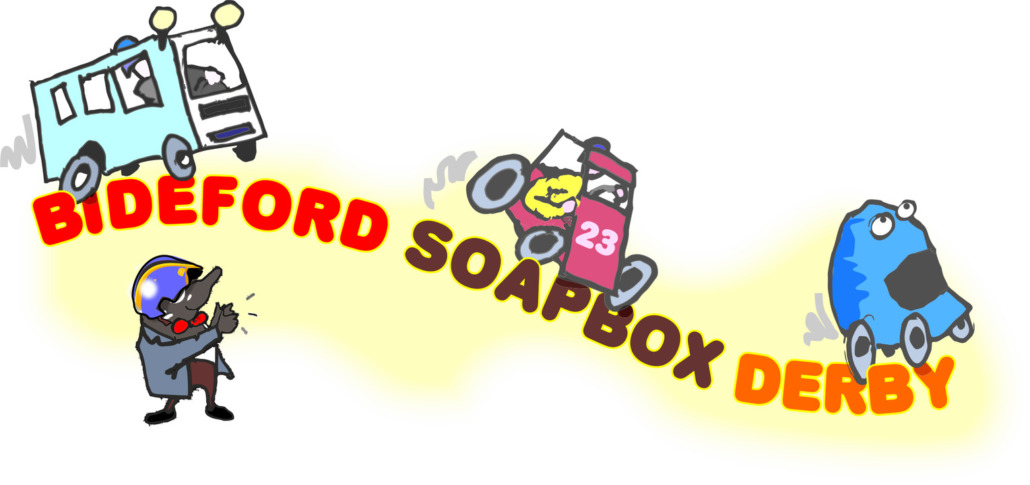 The annual event grew in popularity, attracting participants, sponsors, and spectators. It became a beloved community tradition that showcased creativity, engineering skills, and friendly competition.
Here are the key events of the Soapbox Derby:
Summer 1952: Inspired by the Red Bull Soapbox Derby in Cincinnati, a group of young boys from Bideford propose organizing a similar event in their town.
The town council embraces the idea, providing support and designating a challenging route from High Street to the Quay, spanning nearly a mile.
July 1953: The first-ever Soapbox Derby in Bideford takes place, with spectators eagerly watching homemade vehicles race down the hill.
The event quickly becomes an annual tradition, attracting more participants, sponsors, and spectators each year.
Local businesses and organizations sponsor teams, offering financial support and resources for innovative soapbox racers.
The Soapbox Derby fosters a sense of community and friendly competition, bringing people of all ages together to cheer on the racers.
Over time, safety regulations are introduced, and the event gains attention from neighbouring towns and beyond.
The Soapbox Derby in Bideford continues to thrive as a cherished tradition, showcasing the town's history, community spirit, and love for creative competition.
The Bideford Soapbox Derby is an annual tradition that brings together teams of enthusiastic drivers and their innovative soapbox creations.

The event, held during the vibrant Bideford summer, offers a unique opportunity to witness the excitement of soapbox racing firsthand.
With participants showcasing their homemade vehicles, the Soapbox Derby promises an unforgettable display of creativity and engineering skills.
Soapbox Racing
The highlight of the event is the soapbox racing. Teams of drivers will compete against each other, driving their homemade soapbox vehicles down the steep High Street course.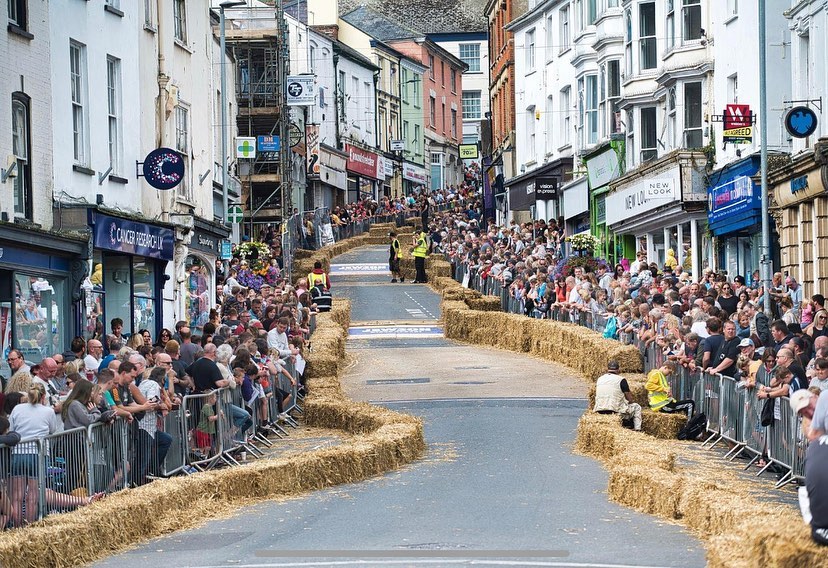 At the heart of the Soapbox Derby is the challenging High Street course, where drivers skillfully manoeuvre their soapboxes down the steep slopes.

From basic designs to more elaborate ones, these homemade vehicles are a testament to the participants' ingenuity and passion for racing.

Be prepared to witness the impressive speed and agility as drivers navigate obstacles such as hay bales and ramps along the course.
Fundraising for Charity
While the Soapbox Derby is a thrilling spectacle, it also serves a greater purpose.

The event raises funds for a local charity, making it a wonderful opportunity to support a good cause while having fun.

By attending the Soapbox Derby, you not only become part of the vibrant Bideford community but also contribute to the betterment of the town and its residents.
The Soapbox Derby 2023 will raise money for Chemohero.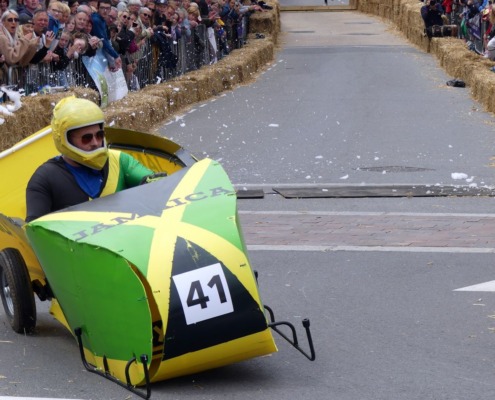 Featured Places to Stay Near Bideford
Participation
If you are feeling adventurous, you can also participate in the soapbox derby.
The event is open to anyone who wants to build their own soapbox and compete against others.
There is a fee to participate, and you will need to email the organisers for an application.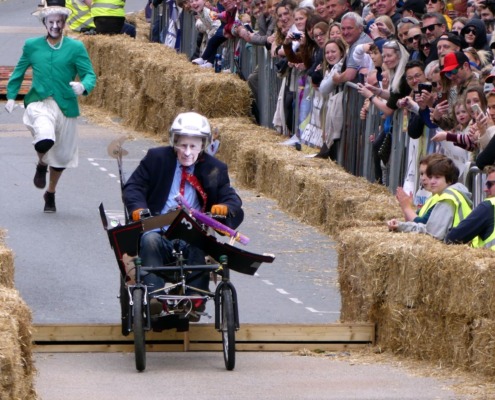 Related Post:
Ultimate Guide to Dog-Friendly Woolacombe & Mortehoe
Safety Measures and Regulations
Ensuring the safety of participants and spectators is of utmost importance during the Bideford Soapbox Derby.
Here's an overview of the safety measures and regulations that are strictly enforced to promote a secure and enjoyable experience:
Emphasizing Safety
Safety is a top priority in the Bideford Soapbox Derby, and all participants, volunteers, and organizers are encouraged to prioritize safety at all times.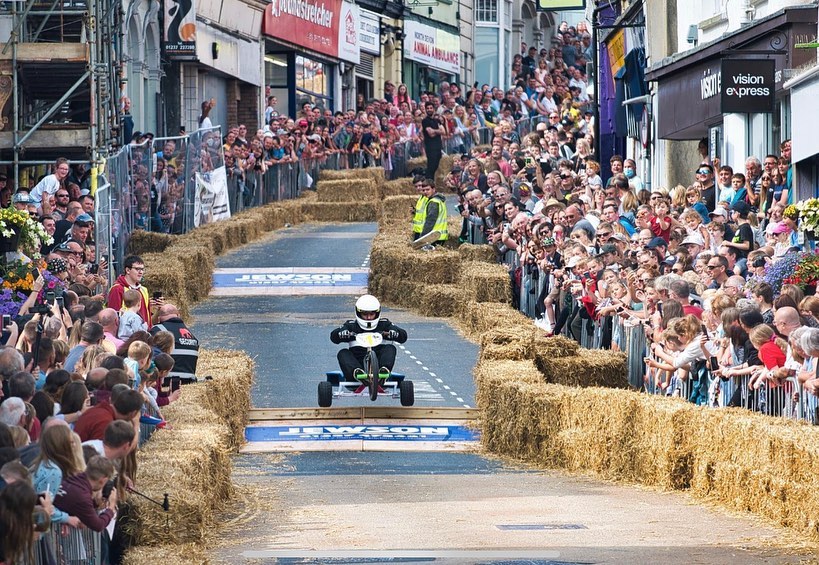 Safety Regulations
Helmet Requirements
Helmets should meet relevant safety standards and provide adequate protection for the head in the event of a crash or collision.
Roll Cage Specifications
The roll cage should be sturdy, properly secured, and designed to provide protection in the event of a rollover or impact.
Vehicle Inspections
The inspection ensures that the vehicles comply with safety regulations, including proper construction, secure steering mechanisms, functioning brakes, and overall structural integrity.
Weight and Size Restrictions
The organizers may impose restrictions on the weight and size of soapbox racers to ensure stability and prevent unsafe designs that could compromise the safety of the participants.
Speed Limitations
To maintain control and reduce the risk of accidents, the Bideford Soapbox Derby may impose speed limitations. These limitations are designed to create a safe racing environment and prevent excessively high speeds that could lead to potential hazards.
Precautions for Participants and Spectators
Participant Training
Encourage all participants to undergo training or familiarization sessions to learn proper racing techniques, including steering, braking, and maintaining control. Training can help reduce the risk of accidents caused by inexperience.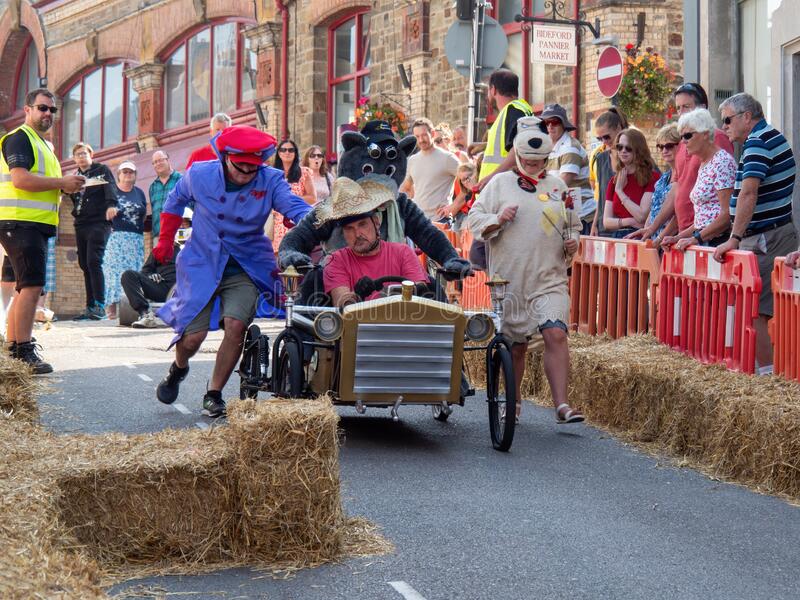 Spectator Guidelines
Spectators should be reminded to maintain a safe distance from the track and avoid obstructing the racers or impeding the race.
Safety Signage and Marshals
Install clear safety signage along the racecourse, highlighting any potential hazards or areas where caution is required. Additionally, appoint trained marshals strategically along the track to enforce safety regulations, guide participants, and address any safety concerns promptly.
Medical Support
In case of injuries or emergencies, prompt medical assistance can make a significant difference in ensuring the well-being of participants and spectators.
Personal Responsibility
Encourage participants to assess their own abilities and limitations, and to prioritize safety over winning. Spectators should also be reminded to be mindful of their surroundings and respect the safety guidelines provided.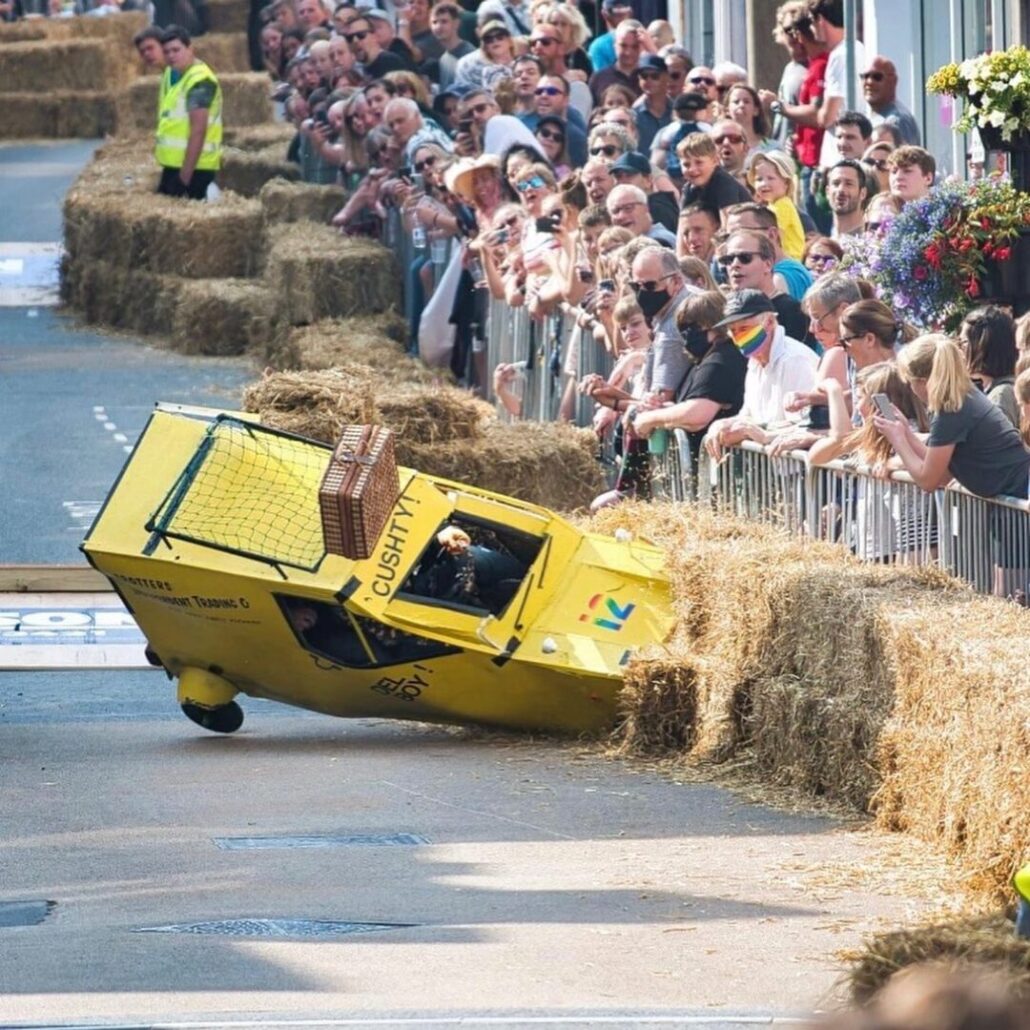 By strictly adhering to safety measures, participants and spectators can enjoy the Bideford Soapbox Derby.
With confidence, knowing that precautions are in place to mitigate risks and ensure a safe and memorable experience for all involved.
Upcoming Bideford Soapbox Derby
Mark your calendars for an unforgettable experience at the upcoming Bideford Soapbox Derby!

Here are the details of the next scheduled event, along with some exciting updates and reasons why you should be part of this thrilling extravaganza:
Date: June 18, 2023
Time: 11:00-18:00
Location: Bideford Quay, Bideford, UK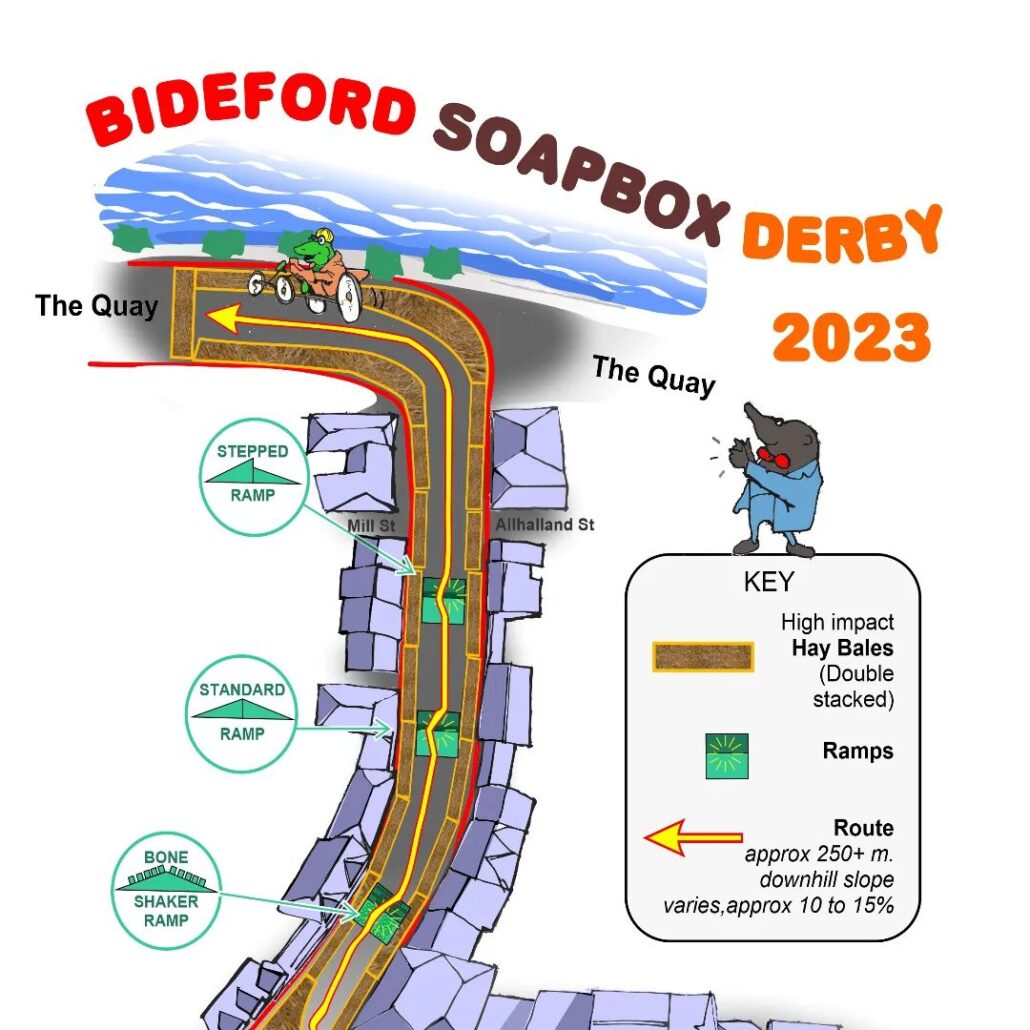 The upcoming Bideford Soapbox Derby promises to be even more exhilarating than ever before, with a range of new additions and changes that will take the event to new heights.
For more information, visit the facebook page.
Bideford Soapbox Derby 2022 Video
In this video, you will see the highlights of the Bideford Soapbox Derby happened last year.
The video shows the participants of the event.
Their colourful soapbox vehicles.
Showing other highlights of the event and how spectators enjoyed it.
And Finally
The Bideford Soapbox Derby is a fantastic event that combines competition, community spirit, and fundraising for charity.
Whether you are a participant or a spectator, this event is sure to be a highlight of your summer.
Frequently Asked Questions
Below are some of the interesting frequently asked questions about the Soapbox Derby.
Q: Does the Soap Box Derby still exist?
A: Yes, the Soap Box Derby still exists. Although it had been cancelled during the World War II years of 1942-1945, the race returned in 2021 and continues to be held today.
Q: Where is the Soap Box Derby held?
A: The Soap Box Derby is held in Akron, Ohio. This youth racing program has been running nationally since 1934, and the World Championship finals take place each July at Derby Downs in Akron.
Q: What is the story of the Soap Box Derby?
A: The Soap Box Derby is a youth car racing program that originated in Dayton, Ohio, in 1934. It was started by a group of friends who constructed racing cars from scraps of lumber. In 1935, the race moved to Akron, Ohio, where it gained popularity. During the 1950s and 1960s, the Soap Box Derby in Akron drew up to 70,000 spectators.
Q: Why is soapbox racing called soapbox?
A: The name "soapbox" racing originated from the early days of the sport when racers used to build their vehicles from rickety wooden soapboxes or orange crates. However, as the sport evolved, racers started constructing their cars using different materials. The winning car in the inaugural 1934 race, driven by Bob Turner of Muncie, Indiana, was actually built from laminated wood taken from a saloon bar.
Q: What are the rules for soap box racing?
A: The rules for soap box racing state that the soapboxes must be powered only by the strength of a push and the force of gravity while going downhill. Any form of stored power or external energy sources, including engines, petrol, batteries, electrical cords, catapults, and afterburners, is not allowed. The emphasis is on using the natural forces of gravity and momentum for propulsion. However, this doesn't mean that the soapboxes won't go fast; racers use their design and weight distribution strategies to optimize speed while adhering to these rules.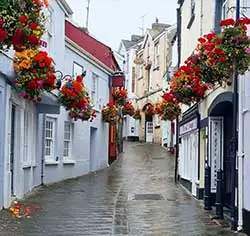 Maximise Your Bideford Adventure!
Our newsletter is packed with helpful tips and resources to help you mazimise your time in & around Bideford. Sign up now and join our community of savvy Bideford'ers.
About the Author
Welcome to Bideford.com! I'm Matt, a seasoned explorer and avid fan of Bideford and the broader North Devon area. With over a decade of consistent family visits, virtually every weekend, I've immersed myself in the rich history and vibrant culture Bideford & North Devon.
On this site, you'll find a wealth of knowledge amassed from my adventures here. From in-depth local guides to engaging blog posts about Bideford. Whether you're looking for recommendations on things to do or guidance on where to stay we have you covered. Join me as we delve into the heart of Bideford, North Devon – a town that's more than just a destination, but an experience waiting to be discovered.
Do you want to see your favourite Bideford attraction, place to stay, event or activity listed here? Contact Us!