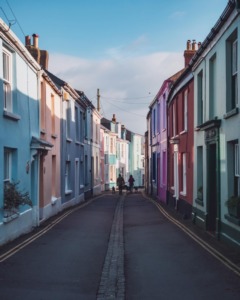 Appledore is a small village located in North Devon, just north of the town of Bideford.
This amazing village is renowned for its winding streets and beautiful, colourful houses, many of which date back to the 18th and 19th centuries.
Appledore's quaint streets are lined with unique independent shops, art galleries, and cafés, offering visitors a delightful shopping and dining experience. The village is also home to a number of lively pubs and restaurants, providing visitors with the opportunity to enjoy delicious local food and a refreshing pint of ale on a summer's day.
Appledore is also a popular destination for outdoor enthusiasts, with numerous walking trails and cycle paths nearby, including the popular Tarka Trail.
Just a short drive from Appledore, visitors can explore the nearby towns of Bideford and Westward Ho, both of which offer stunning coastal views and a range of attractions and activities. Westward Ho is renowned for its long, sandy beach and excellent surf, while Bideford is a historic port town with a rich maritime heritage.