Today, we're taking a journey to the town of Bideford in North Devon, United Kingdom, where we'll uncover the secrets of the Bideford Long Bridge. Let's get started!
About the Bridge
Spanning the River Torridge, the Bideford Long Bridge is a magnificent medieval marvel connecting the old part of Bideford with East-the-Water.
Built in the 13th century, it is one of the longest medieval bridges in England, boasting a length of 677 feet (222 yards) and featuring 24 arches!
Key Takeaways
Bideford Long Bridge is one of the longest medieval bridges in England
It spans 677 feet (222 yards) with 24 arches
The bridge was originally built in the 13th century from oak wood
It was rebuilt in stone in the 14th century, with major funding from Sir Theobald II Grenville
There are different theories about the varying widths of the arches
The bridge played a crucial role during World War II
Historical Significance
Did you know that until 1987, it was the furthest downstream bridge on the River Torridge? A new Torridge A39 Road Bridge now holds that title.
The Bideford Long Bridge is also a Grade I listed building, which means it's considered of exceptional interest and super important for preservation.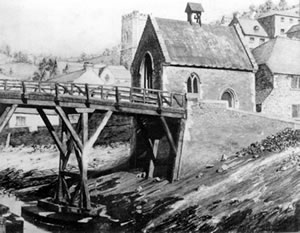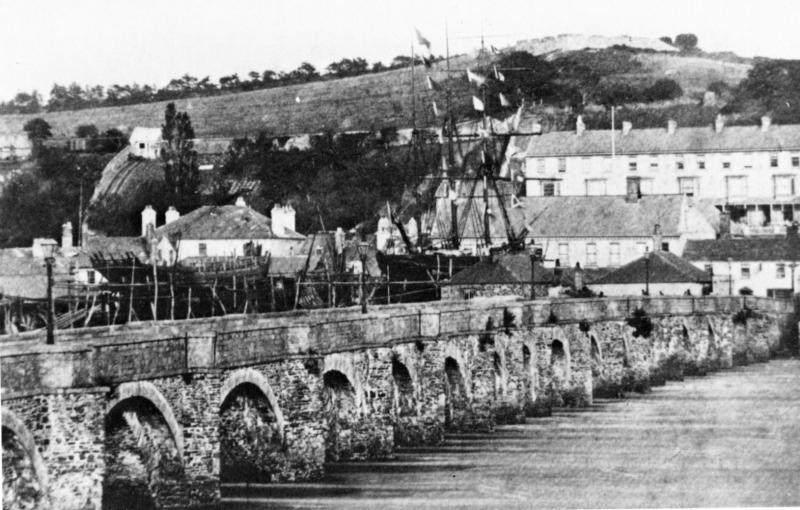 Wooden Bridge and Stone Bridge
Now, let's dive into some of the bridge's fascinating history! The first bridge was built from oak wood in the 13th century. Later, it was rebuilt in stone in the 14th century, and its construction was funded by powerful families, including Sir Theobald II Grenville, a local lord.
Arches and Theories
You might be wondering why the bridge's arches have different widths. Well, there are a few theories! One suggests that each arch was funded by a different local guild, leading to their varying sizes.
Another theory points to the piers of the arches being built on naturally existing, randomly situated large stones in the river.
Featured Places to Stay Near Bideford
Accidents and Alterations
The Bideford Long Bridge has experienced some bumps and bruises over the years. In 1886, a ship called 'Edward Birkbeck' launched from a Bideford shipyard and hit the bridge, knocking out some stones.
Then, in 1925, during the bridge's widening, a lorry fell off the side and crashed into the River Torridge – but luckily, both people inside survived!


Related Post:
Victoria Park, Bideford: Comprehensive Guide 2023
World War II
During World War II, the bridge played a crucial role as the home guard patrolled it to keep it safe from potential invaders.
At one point, the 10th arch of the bridge was being repaired, and the police requested the removal of ladders and scaffolding to prevent enemy forces from climbing up and capturing the bridge. So, as you can see, the Bideford Long Bridge holds a special place in history!
Conclusion
From its humble beginnings as a wooden structure in the 13th century to its important role in World War II, the Bideford Long Bridge is not only a remarkable feat of engineering but also an enduring symbol of history and culture in North Devon.
There are few better places to appreciate the beauty of Bideford and its past than Long Bridge, a site that truly deserves its name.
Frequently Asked Questions about Bideford Long Bridge
These are the common questions about Bideford Long Bridge, answered.
Q: What is Bideford Long Bridge?
A: Bideford Long Bridge is a historic, medieval footbridge that crosses the River Torridge in Bideford, located in North Devon, England. Built as an improvement on the original stepping stones, it is 309 metres long and made of granite material.
Q: When was the Bideford Long Bridge built?
A: Construction of Bideford Long Bridge began in 1386 and took decades to complete, officially opening to pedestrians in 1515 and becoming the oldest complete stone bridge in Europe.
Q: How wide is the Bideford Long Bridge?
A: At its widest point, the bridge measures 4-metres wide, with two lanes and a low parapet providing an additional 1.2-meter of width.
Q: What is unique about the Bideford Long Bridge?
A: The uniqueness of the Bideford Long Bridge lies in its design. Usings stone from quarries from across North Devon, the bridge created a strong, stout structure which stands to this day and makes it one of the most impressive examples of medieval engineering.
Q: How has the Bideford Long Bridge impacted locals in the area?
A: Despite its historic importance, the bridge still functions for everyday use and provides the local population with a direct link between East and West Bideford. It is often used as a gathering spot for locals who arrange social events and have become known as 'the custodians' of the bridge in recent years.
Q: What investments have been made in the Bideford Long Bridge recently?
A: Recently, thanks to a successful Heritage Lottery Fund bid, investment has been made that allows for important repairs to be carried out and supportive members of the community now volunteer their time to assist with this work. Additionally, local town councils and a foundation have raised funds to help protect and maintain the bridge.
Q: How can I get involved in preserving the Bideford Long Bridge?
A: If you would like to support the preservation of Bideford Long Bridge, you can contact your local town council or the Bideford Long Bridge Foundation to make a donation or to register as a volunteer. As a volunteer, you can be part of the team that helps to maintain and restore the bridge.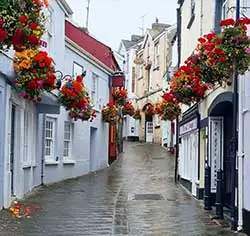 Maximise Your Bideford Adventure!
Our newsletter is packed with helpful tips and resources to help you mazimise your time in & around Bideford. Sign up now and join our community of savvy Bideford'ers.
About the Author
Welcome to Bideford.com! I'm Matt, a seasoned explorer and avid fan of Bideford and the broader North Devon area. With over a decade of consistent family visits, virtually every weekend, I've immersed myself in the rich history and vibrant culture Bideford & North Devon.
On this site, you'll find a wealth of knowledge amassed from my adventures here. From in-depth local guides to engaging blog posts about Bideford. Whether you're looking for recommendations on things to do or guidance on where to stay we have you covered. Join me as we delve into the heart of Bideford, North Devon – a town that's more than just a destination, but an experience waiting to be discovered.
Do you want to see your favourite Bideford attraction, place to stay, event or activity listed here? Contact Us!