Welcome to a virtual tour of the town of Bideford in North Devon!
This blog post follows a YouTube video, where we'll explore the beautiful sights and attractions that Bideford has to offer. Perfect for tourists or anyone interested in discovering this charming town, we've provided timestamps with additional information on each location, so you can follow along and learn more about Bideford's rich history and scenic beauty.
00:00 – Globe Intro
Our virtual tour of Bideford starts with a globe intro, showcasing the location of this historic town in North Devon, England.
Situated at the mouth of the River Torridge, Bideford has long been a thriving port and centre for trade, making it a fascinating destination for tourists to explore.
00:23 – River Torridge
The River Torridge flows through Bideford, providing a picturesque setting for the town.
The river is famous for its salmon fishing and is also an important habitat for otters and kingfishers. Visitors can enjoy leisurely riverside walks, or take a boat trip along the river to enjoy the stunning North Devon countryside.
01:17 – River Torridge/New Road/A386
As we continue along the River Torridge, we come to the junction of New Road and the A386. This is a great starting point for exploring Bideford, with its historic buildings, shops, and restaurants.
The Tarka Trail, a popular walking and cycling route, also passes through this area, offering a scenic way to explore the town and its surroundings.
04:36 – Parish Church
The Parish Church of St Mary's stands proudly overlooking Bideford, with its distinctive tower dating back to the 14th century.
The church has a rich history, with notable features such as the ornately carved pulpit and the stunning stained glass windows. It's worth taking the time to explore this impressive building and learn more about its fascinating past.
04:51 – Church Walk
Church Walk is a charming, narrow pathway leading from the Parish Church down towards the river.
Lined with quaint cottages and historic buildings, this picturesque walk offers a glimpse into Bideford's past, providing a delightful contrast to the bustling streets of the town centre.
05:00 – St Mary's Church
(See 04:36 – Parish Church)
09:13 – Allhalland Street
Allhalland Street is a narrow, cobbled street in the heart of Bideford's historic centre.
Lined with independent shops, galleries, and cafes, this charming street is the perfect place to stop for a leisurely browse or a spot of lunch while soaking up the town's unique atmosphere.
10:48 – Mill Street
Mill Street offers a mix of local shops, eateries, and historic buildings, providing a snapshot of Bideford's rich heritage.
Be sure to visit the Burton Art Gallery and Museum, which showcases local artists and has a range of fascinating exhibits on the town's history.
14:12 – Chingswell Street
Chingswell Street features a mix of historic buildings and modern amenities, reflecting the town's evolution over the centuries.
Don't miss the ornate Victorian water fountain on this street, a testament to Bideford's commitment to providing clean water for its residents in the 19th century.
16:00 – Kingsley Road/A386
Kingsley Road, part of the A386, runs along the eastern edge of Bideford and offers scenic views of the River Torridge.
This stretch of road is lined with a mix of historic homes and modern properties, showcasing the diverse architectural styles that can be found throughout the town.
Be sure to stop and enjoy the view at the Kingsley Statue, a tribute to author Charles Kingsley, who was a resident of Bideford and drew inspiration from the town for his famous novel, "Westward Ho!"
18:12 – Victoria Park
Victoria Park is a beautiful, well-maintained green space in the heart of Bideford. The park offers a peaceful retreat from the bustling town centre, with plenty of seating areas, lush lawns, and colourful flowerbeds.
The park also features a children's play area, making it an ideal spot for families to relax and unwind during their visit to Bideford.
22:03 – The Quay/A386
The Quay, part of the A386, is a scenic waterfront area where visitors can watch boats sailing along the River Torridge or enjoy a leisurely stroll along the promenade.
This area is also home to several bars, cafes, and restaurants, offering a variety of dining options with beautiful river views.
25:47 – Bridgeland Street
Bridgeland Street is a charming, tree-lined street featuring an array of Georgian buildings and quaint shops.
Many of these historic buildings have been beautifully restored, providing a glimpse into Bideford's rich architectural past. Be sure to take a leisurely stroll down this street to admire the beautiful facades and explore the unique boutiques and eateries that call Bridgeland Street home.
28:29 – Mill Street
(See 10:48 – Mill Street)
29:04 – Coldharbour
Coldharbour is a narrow, atmospheric street with a mix of historic cottages and modern homes. This street offers a unique blend of old and new, showcasing Bideford's ever-evolving character.
As you walk along Coldharbour, you'll also catch glimpses of the River Torridge, providing a scenic backdrop for your exploration.
31:36 – Lower Gunstone
Lower Gunstone is a quiet residential street featuring a range of historic homes, some dating back to the 16th century.
The street offers a peaceful retreat from the busier areas of Bideford, allowing visitors to experience the town's rich history at a more leisurely pace.
33:08 – New Street
New Street is a bustling thoroughfare, home to a variety of shops, cafes, and restaurants. This lively street is a great place to sample local delicacies, browse through unique boutiques, and soak up the vibrant atmosphere of Bideford.
34:12 – High Street
High Street is the main shopping area in Bideford, offering a mix of well-known brands and independent retailers.
This lively street is perfect for picking up souvenirs, enjoying a bite to eat, or simply people-watching as you explore the town.
35:28 – Grenville Street
Grenville Street is a quiet, residential street with a mix of historic and modern homes.
Named after Sir Richard Grenville, a prominent figure in Bideford's history, this street offers a tranquil retreat from the hustle and bustle of the town centre.
36:19 – Bideford Pannier Market
Bideford Pannier Market is a historic indoor market located in the heart of the town.
Open on Tuesdays and Saturdays, the market offers a range of locally produced goods, including fresh produce, handmade crafts, and unique gifts. The market is a great place to support local businesses and pick up some authentic North Devon souvenirs.
40:11 – Bridge Street
Bridge Street is a charming, cobbled street leading down to the iconic Old Bideford Bridge
. Lined with a variety of shops, cafes, and pubs, this historic street is the perfect place to explore, offering a unique shopping and dining experience with a distinct Bideford charm.
42:10 – Old Bideford Bridge
The Bideford Long Bridge is a stunning medieval structure that spans the River Torridge, connecting the two sides of the town.
Dating back to the 15th century, this impressive stone bridge is an important symbol of Bideford's rich history and a must-see attraction for any visitor. Take a moment to enjoy the views of the river from the bridge or watch the boats as they pass underneath.
46:44 – Bideford Railway Heritage Centre
The Bideford Railway Heritage Centre is a fascinating attraction for railway enthusiasts and history buffs alike.
Located at the old Bideford railway station, the centre preserves the history of the town's railway connections and offers a range of exhibits, including restored rolling stock and a working model railway.
The Tarka Trail, a popular walking and cycling route, also starts from the heritage centre, following the old railway line and offering a scenic way to explore the local area.
And Finally… Bideford
We hope you enjoyed this virtual tour of Bideford, North Devon.
With its rich history, stunning scenery, and an array of attractions, Bideford is a must-visit destination for anyone exploring the region.
Whether you're into your history, a nature lover, or simply looking for a charming town to explore, Bideford has something for everyone.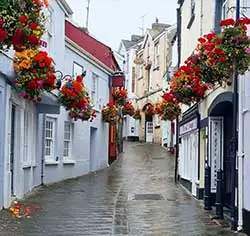 Maximise Your Bideford Adventure!
Our newsletter is packed with helpful tips and resources to help you mazimise your time in & around Bideford. Sign up now and join our community of savvy Bideford'ers.
About the Author
Welcome to Bideford.com! I'm Matt, a seasoned explorer and avid fan of Bideford and the broader North Devon area. With over a decade of consistent family visits, virtually every weekend, I've immersed myself in the rich history and vibrant culture Bideford & North Devon.
On this site, you'll find a wealth of knowledge amassed from my adventures here. From in-depth local guides to engaging blog posts about Bideford. Whether you're looking for recommendations on things to do or guidance on where to stay we have you covered. Join me as we delve into the heart of Bideford, North Devon – a town that's more than just a destination, but an experience waiting to be discovered.
Do you want to see your favourite Bideford attraction, place to stay, event or activity listed here? Contact Us!