Located just a stone's throw from the bustling beach town of Woolacombe, Mortehoe is a quaint and tranquil village perched atop the dramatic cliffs of North Devon.
With its stunning coastal views, fascinating history, and charming village atmosphere, Mortehoe offers a peaceful escape for travellers seeking a more relaxed pace.
In this comprehensive guide, we'll uncover the unique attractions, outdoor activities, and yummy food delights that make Mortehoe a must-visit destination in North Devon.
PS. Mortehoe has one of THE best takeaways in North Devon ever!
Key Takeaways
Mortehoe is a tranquil village in North Devon with stunning coastal views and fascinating history
The village offers unique attractions including the Mortehoe Museum and the South West Coast Path for scenic walks and wildlife spotting
Mortehoe boasts delicious food options from traditional pub fare to seafood at local restaurants, including a highly recommended takeaway from Rockleigh House
Camping options are available in and around Mortehoe, with the North Morte Farm Caravan & Camping Park offering amazing views across the Bristol Channel
Nearby beaches like Rockham Beach and Grunta Beach offer peaceful, secluded spots for relaxation and swimming
Mortehoe: A Journey Through Time
Steeped in history, Mortehoe's roots stretch back to the Domesday Book, a manuscript record of the "Great Survey" commissioned by William the Conqueror in 1086.
The village's rich past is evident in its beautiful architecture, which includes the rare barrel-roofed St. Mary's Church, dating back to the 13th century.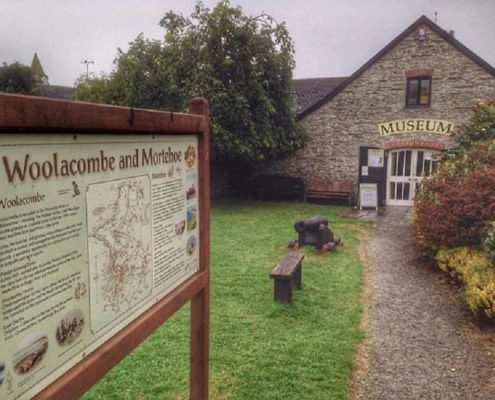 Visitors can delve deeper into Mortehoe's intriguing history at the Mortehoe Museum, which showcases exhibits on local agriculture, tourism, shipwrecks, wartime, and more.
The museum also offers tractor and trailer safaris during the summer months, taking visitors on guided tours to explore the breathtaking Bull Point and Morte Point.
The Great Outdoors: Scenic Walks and Wildlife
Mortehoe is a paradise for walkers, thanks to its stunning coastal paths and rolling countryside trails.
The Morte Point Trail & Bull Point circular coastal walk
For a leisurely yet rewarding hike, try the Morte Point Trail. This 4-mile circular walk begins in the heart of Mortehoe and takes you along the rugged coastline, offering breathtaking views of the Atlantic Ocean.
Once the stomping ground of smugglers and pirates, the coastal walk from Morte Point to Bull Point provides a splendid way to enjoy the rugged cliffs, secluded coves, and sandy beaches of this region.
Walking this trail, you'll have the chance to spot seals and immerse yourself in coastal heathland and maritime grasslands, which are brimming with birds and other wildlife.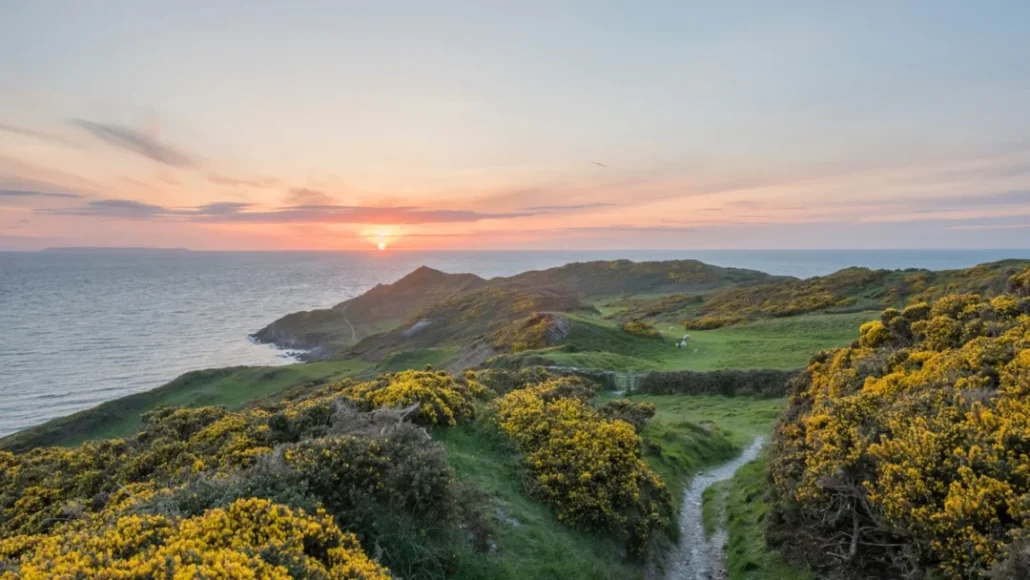 Starting Point
The car park in Mortehoe village (Mortehoe Station Rd, Mortehoe, Woolacombe EX34 7DX)
Step 1
Beginning at the Mortehoe village car park, take a left past the village shop. You'll then take the lane between the church and The Ship Aground pub, where you'll see a sign for the Coast Path. Proceed onto the National Trust path leading to Morte Point, keeping the cemetery to your right and accessing Morte Point through the official gates.
Step 2
Proceed straight, heading downhill on a wide grassy track. After about 220 yards (200m), take a left onto a footpath that connects with the coastal path. This trail will guide you around Morte Point.
Step 3
Follow the coastal path all the way to Bull Point and the lighthouse, taking in the views of Rockham Bay and its sandy beach. There is a gravel path to the left of the lighthouse, take this path and rejoin the coastal path.
Step 4
Continue your ascent until the path begins to descend sharply down steps towards the hidden rocky bay of Bennett's Mouth. Before reaching a bridle gate, take a sharp right onto the path signposted for Mortehoe. Follow this path, keeping the stream to your left.
Step 5
Pass through another bridle gate and continue until you reach a signpost. Stick to the lower footpath until you arrive at a bridge on your left. Don't cross the bridge, but instead, follow the path uphill until you reach the tarmac path at the top. Take a left here to head back towards Mortehoe.
Step 6
Follow the lane until you reach a metal gate, pass through it and continue on the road back to Mortehoe village car park.
Finish Point
Back at the car park in Mortehoe village, then the pub!
This coastal journey offers a perfect mix of history, natural beauty, and exercise, making it a must-do activity during your visit to Mortehoe.
Bull Point Lighthouse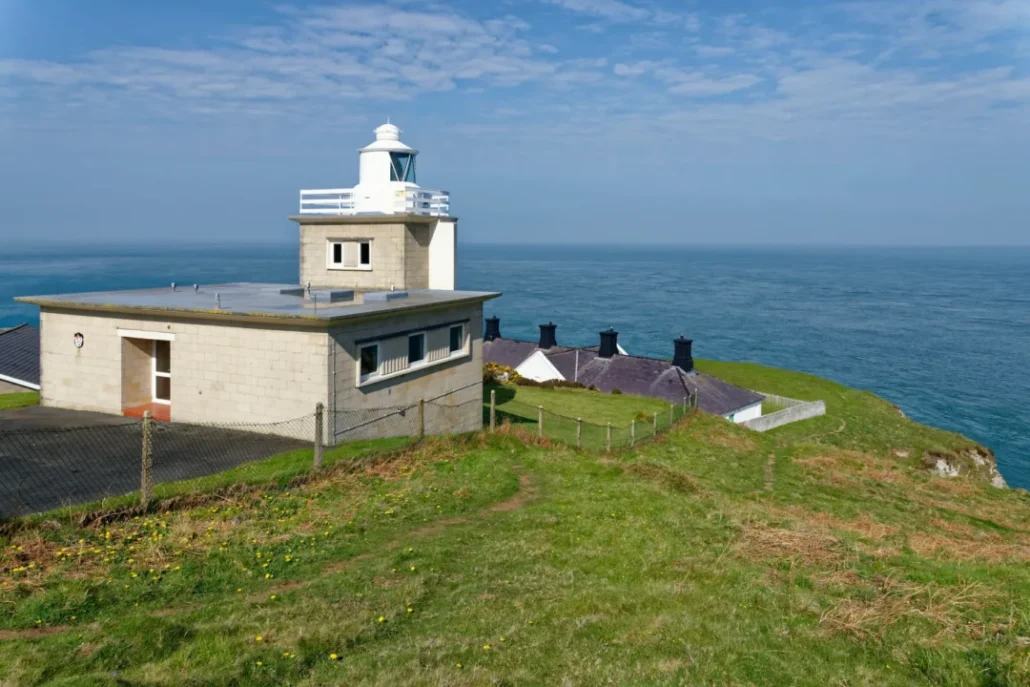 Bull Point Lighthouse, built in 1879 on the North Devon Coast, aided navigation, with George Knott as its first principal keeper.
The lighthouse complex housed keepers and their families, and included a fog signal. A collapse in 1972 led to a new automated tower in 1974, and the foghorn was decommissioned in 1988.
Today, the former keepers' cottages are holiday rentals, and the lighthouse is publicly accessible.
The South West Coast Path
If you're looking for a longer walk, you could try a section of the South West Coast Path.
This long-distance walking route covers over 630 miles from Minehead in Somerset to Poole Harbour in Dorset, but the stretch near Mortehoe is one of the most dramatic.
You can start your walk in the village and head either east towards Ilfracombe or west towards Woolacombe, both offering stunning views and varied landscapes.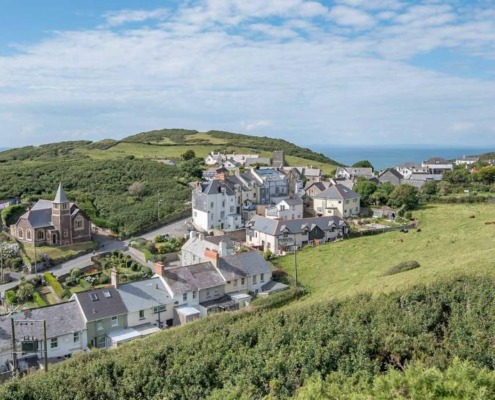 The village is also surrounded by the Voluntary Marine Conservation Area, a haven for vibrant wildflowers and diverse wildlife.
A walk to Morte Point offers the chance to spot Atlantic grey seals, often seen basking on the rocks or frolicking in the sea.
Hidden Beaches Near Mortehoe
While Woolacombe might be the most famous beach in the area, there are several lesser-known gems near Mortehoe that are worth exploring.
Rockham Beach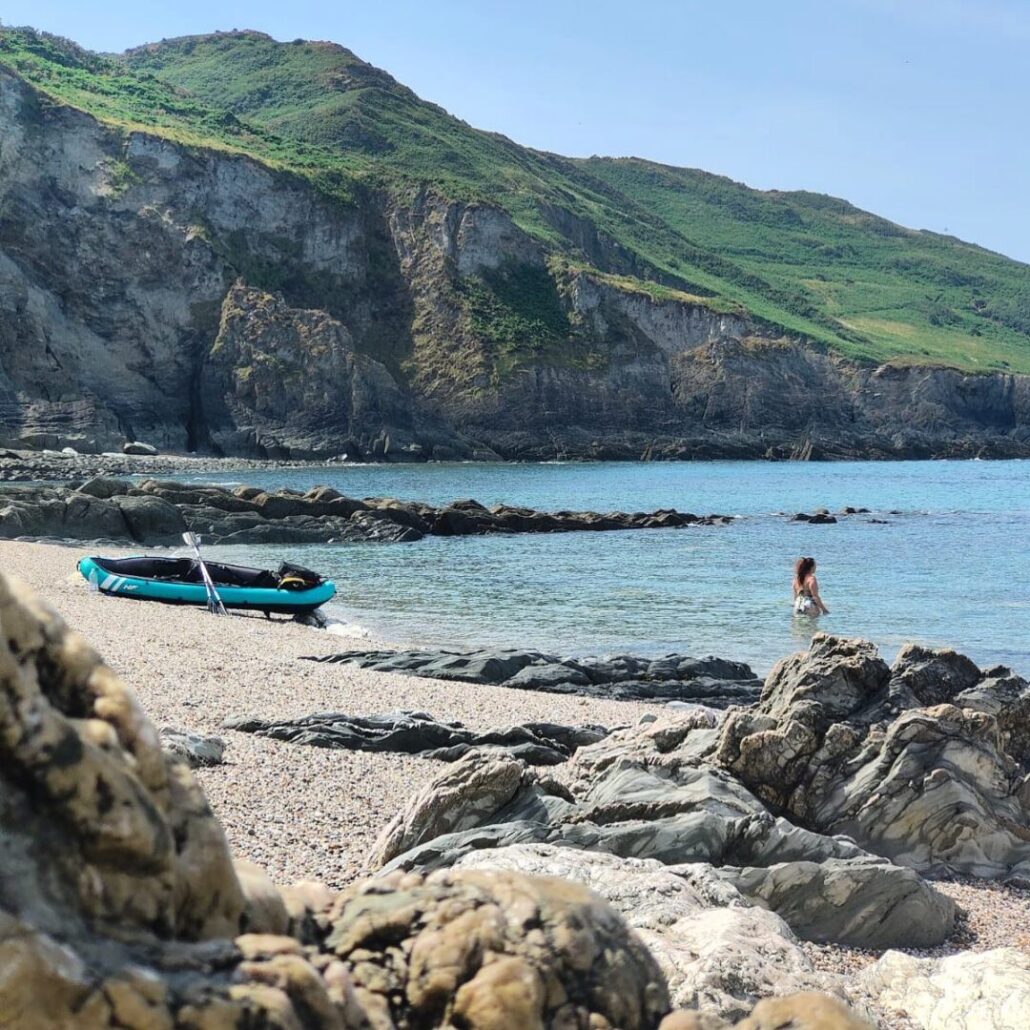 Just a mile away from Mortehoe, you'll find Rockham Beach.
This small sandy beach, surrounded by cliffs, is a tranquil haven perfect for those wanting to escape the crowds.
The beach is accessible via a steep path from the Mortehoe Heritage Centre, and it's a great place for a picnic or a leisurely swim.
Note that the beach is only exposed at low tide, so do check the tide times before you go.
Grunta Beach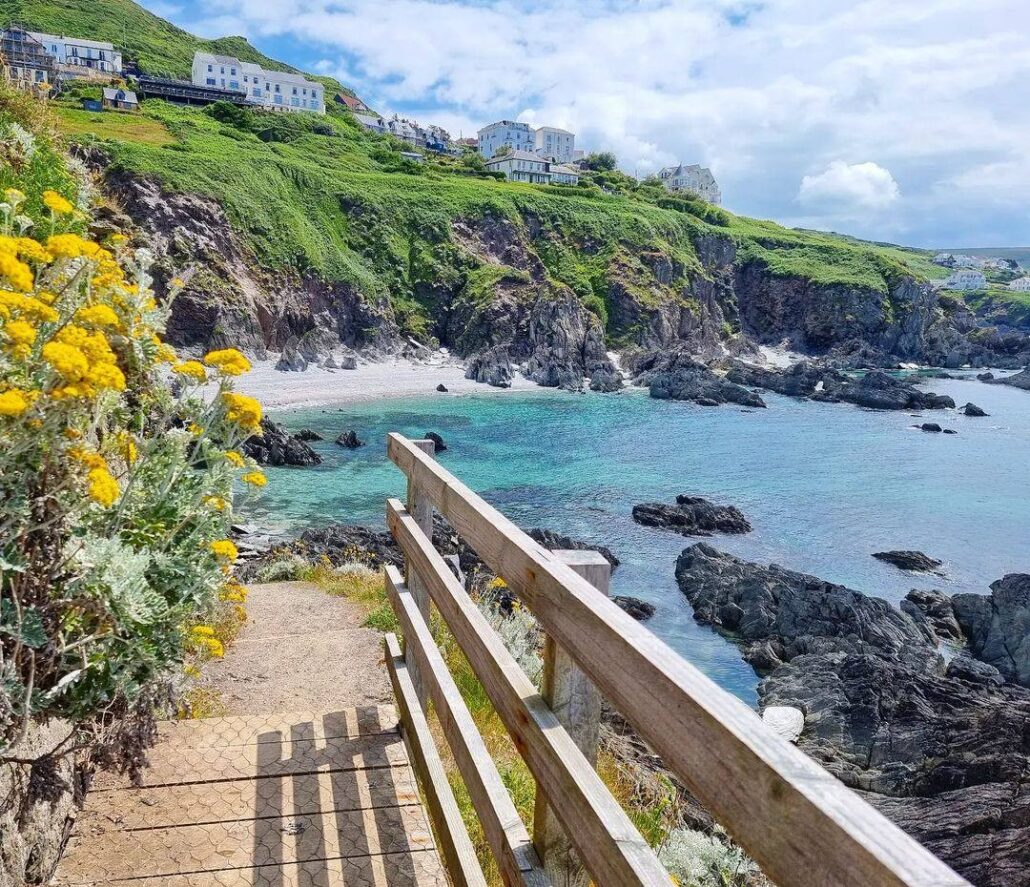 A little further to the west, hidden beneath the cliffs, you'll find Grunta Beach.
This secluded cove can only be reached on foot via the South West Coast Path and then a steep scramble down the cliff. The beach is named after a ship, The Grunta, which was wrecked there in the 19th century.
It's a peaceful spot, perfect for a quiet day of sunbathing and swimming. However, be aware that there are no lifeguards and the currents can be strong, so it's only suitable for confident swimmers.
Remember to respect the environment and leave no trace when visiting these beaches. They are precious natural habitats and we all should do our part to keep them clean and undisturbed.
Featured Places to Stay Near Bideford
Morthoe History
Its origins trace back to the Domesday Book, and it has long been a farming community.
In earlier times, it served as a base for smugglers and wreckers. The advent of the railway in the 19th century, particularly the Ilfracombe Branch Line, brought a shift towards tourism.
Mortehoe is nestled on Devonian Slates, Sandstones, and Igneous rocks like Basalt, contributing to its rugged, rocky landscape.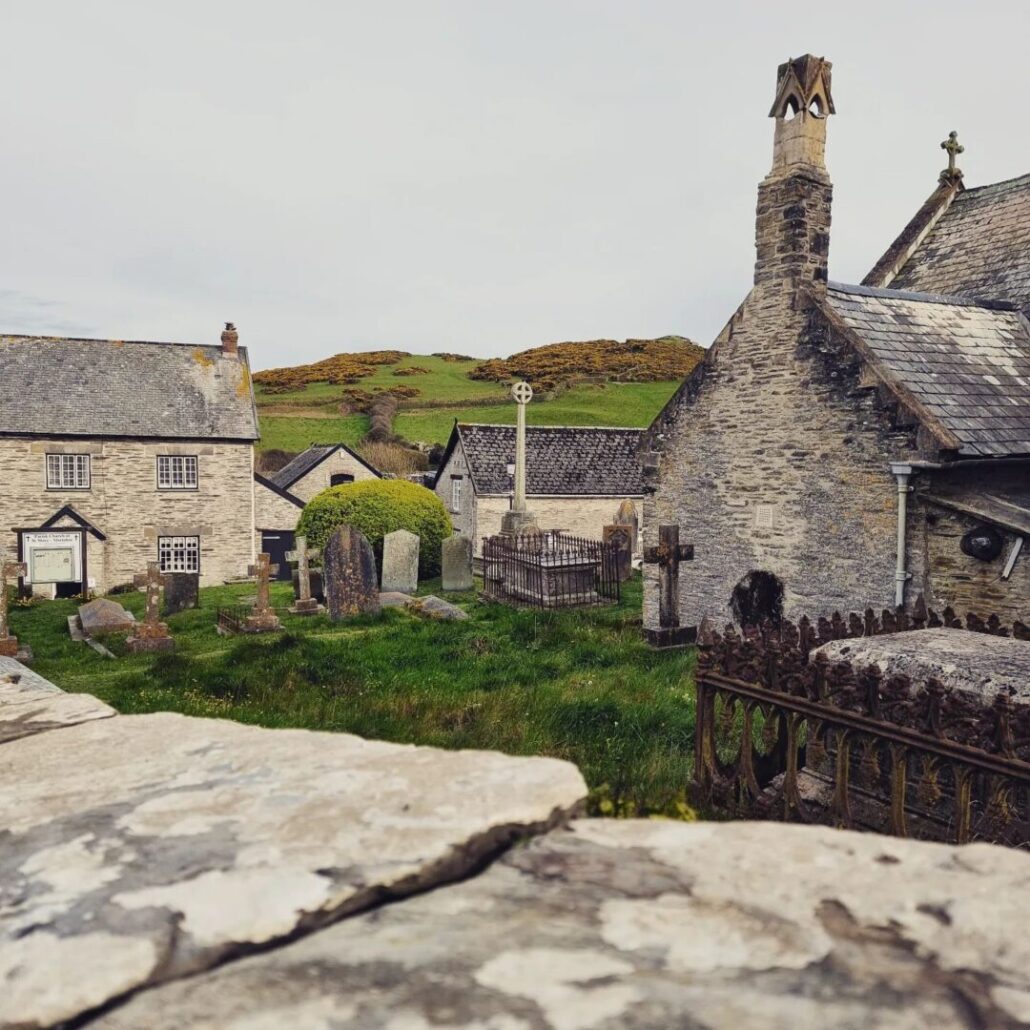 The village is home to the Mortehoe Heritage Centre, located in the Cart Linhay building. It showcases the history of the local farming communities, the railway, and the numerous shipwrecks that occurred off the nearby coast.
Visitors can take a short walk along the South West Coast Path to reach the Bull Point Lighthouse or Morte Point, both significant landmarks.
The historic St Mary's Church, dating back to Norman times, stands in the village. It contains medieval elements like the bell tower, carved pews, and the tomb of Sir William de Tracy, with parts of the building dating back to the 14th and 16th centuries.
Satisfy Your Appetite: Food Delights in Mortehoe
After a day of exploring the great outdoors, visitors can satiate their hunger with a wide array of mouthwatering options for food.
From traditional pub fare to delectable seafood platters, there's something to satisfy every palate in Mortehoe.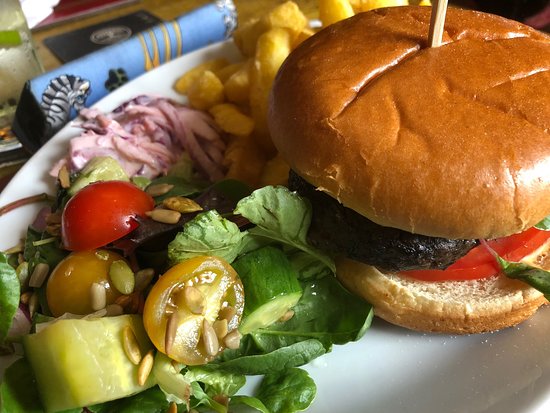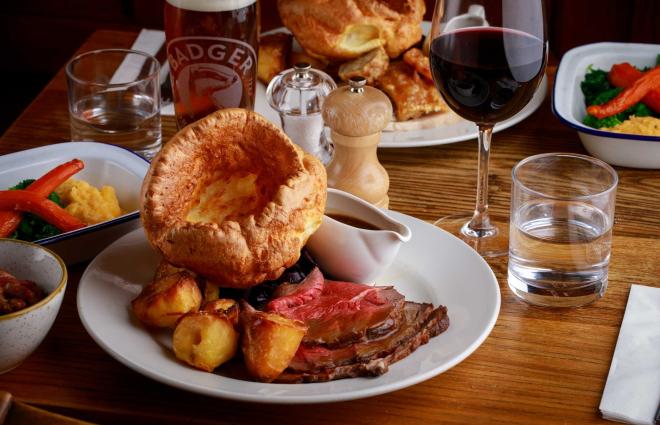 Indulge in a classic cream tea, savour a piping hot pasty, or treat yourself to a generous scoop of ice cream.
For a more substantial meal, sample the catch of the day at a local seafood restaurant or cosy up with a comforting plate of fish and chips.
And don't forget to wash it all down with a refreshing pint at one of the village's welcoming pubs.
For such a small village, it has an amazing number of pubs and places to eat!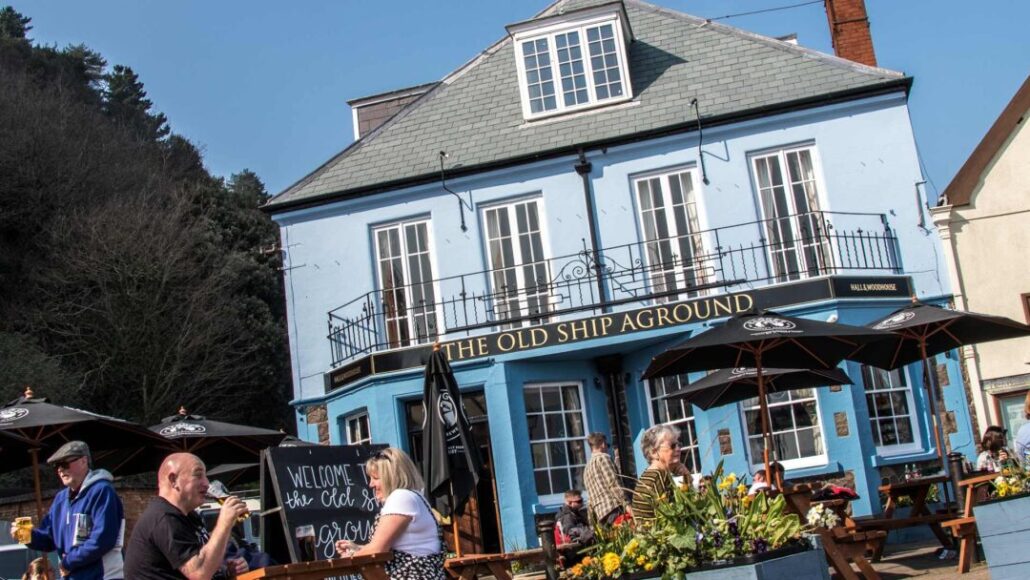 The "Ship Aground" is by the two takeaways and has outdoor seating in the stunning little village square area (it's always busy outside if the weather is nice).
The Chichester Arms is a local's favourite and if you pop in, you'll find out first-hand why this pub is rated 4.5/5 by locals and tourists.
Then you have Miss Fea's Cafe on the corner by the post office (yes even this tiny little village still has a post office!), which is part of the Smugglers Rest which is a 3-star hotel.
Side note, also see our visitor's guide to Croyde.
The Best Takeaway in North Devon?
Mortehoe is home to "Rockleigh House Takeaway" and offers two of the best takeaway meals I have ever, ever had.
The first is their chilli-con-carne and the second is their nachos. I see people waiting for fish and chips next door in the Mortehoe Fish & Chip Shop and yes their chips are amazing (nuggets are standard chip shop ones, Mr Chips in Bideford has the best chicken nuggets ever by the way). But they are sooooo missing out.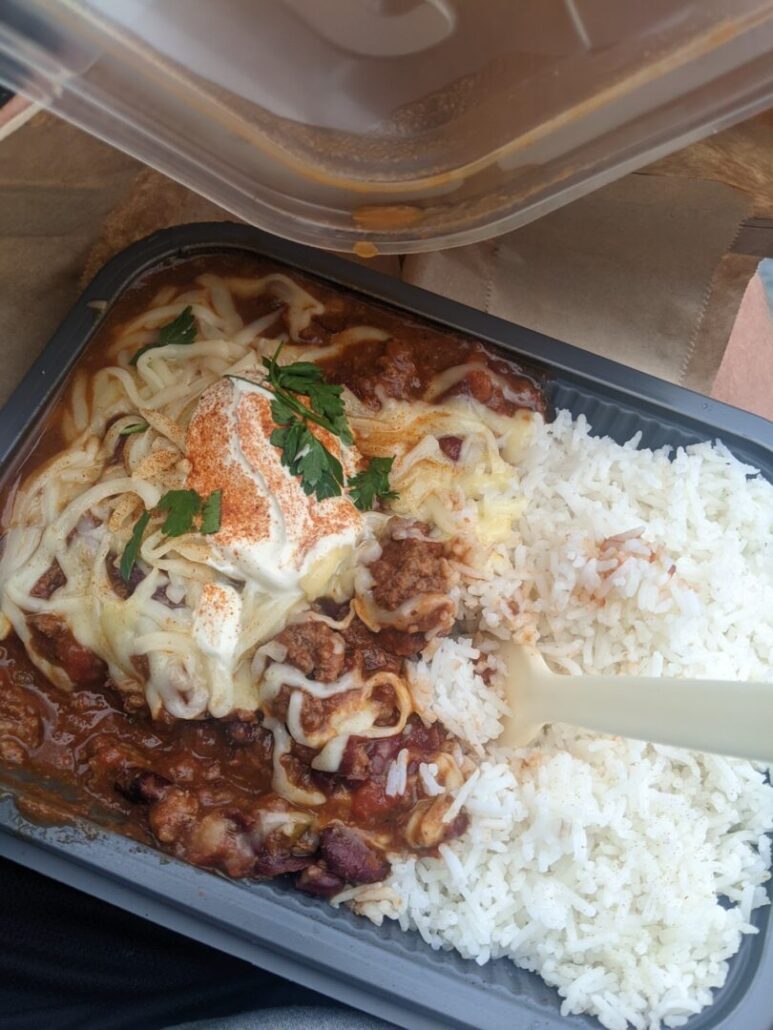 Camping at Mortehoe
There is one main campsite at Morthoe, but several more really close by, including the three Woolacombe Bay sites, Damage Barton and a couple of others (all dog friendly).
We have stayed at the North Morte Farm Caravan & Camping Park featured below. The views across the Bristol Channel are amazing.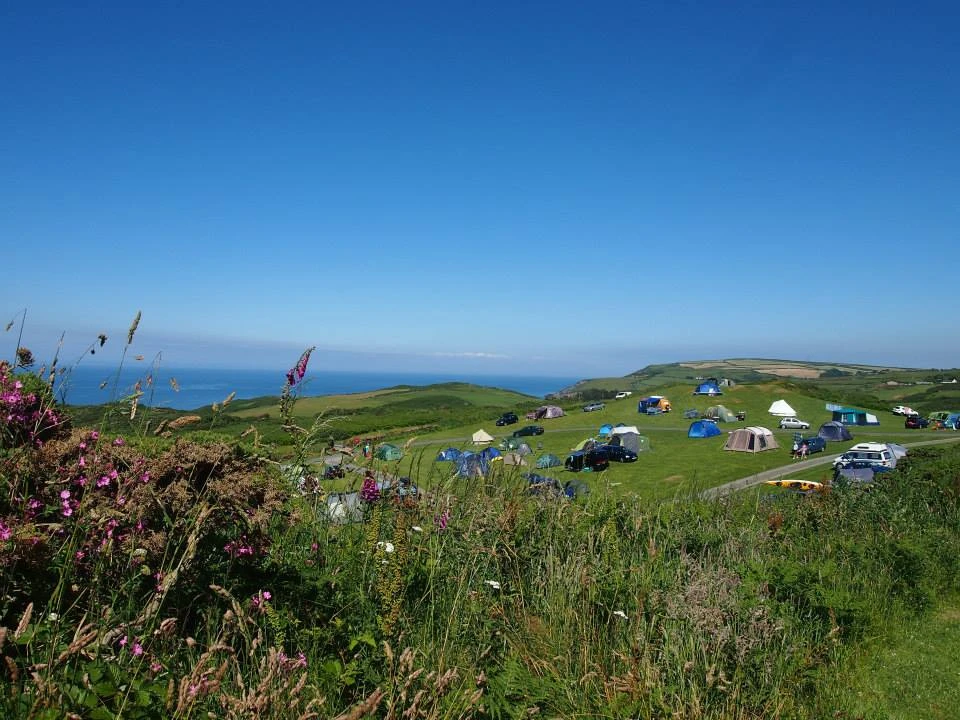 One thing we would note is that while one of the less expensive options, the entire site is on a set of hills (its blessing and, shall we say "charm"?), so unless you're in a static caravan or in the field at the back with an electric pitch (no views), we counted just 14 spots where the ground is flat enough not to use chocks under the wheels.
That said, the staff are super friendly and the views as the sun comes up or goes down are just amazing. And pack some wheel chocks if you're in a camper van!
Compared to the silly costs down the road at say Croyde Bay campsites (none of which allow dogs either!!!) or Putsborough Bay (+£40 a night!), we'd stay here every time if close by and cannot wait to go back
Update: We're here next weekend, cannot wait!!
Parking At Mortehoe
Mortehoe Car Park (Mortehoe Station Rd, Mortehoe, Woolacombe EX34 7DX) is inexpensive and you can get a moderately sized camper van in there as well.
There is also a public toilet in this car park as well.
Some of the locals/tourists abandon their cars while waiting for a takeaway in the main square area, but it's only big enough for two cars at best.
There is free parking just outside the post office for two cars and while the local residents have put up signs about "parking for residents only" on North Morte Road, this is utter rubbish and anyone with a MOT and road tax can park there for free.
So Finally, Mortehoe
Mortehoe is a tranquil village located in North Devon, which is a very, very popular destination for travellers seeking a peaceful escape (and wow have we escaped here!).
If you drive through this village, you're missing something special.
The village has a rich history, which can be explored at the Mortehoe Museum, and the stunning landscape forms part of the South West Coast Path, offering opportunities for scenic walks and wildlife spotting. Plus there are two secluded beaches near by too.
Grab a bite to eat in the pub, fish & chip shop or the highly recommended Rockleigh House Takeaway, then watch the sun go down across Bristol Channel at the campsite a short walk away.
All the pubs and the campsite are dog friendly. And why would they not be? There are numerous walking trails and dog-friendly beaches in the area and I know ours loves it there as much as we love the Chill-con-carne from Rockleigh House (huge fans!).
If you're here for more than a day, see our guide to the Top 11 Towns in North Devon.
And at last, we always make the point to pop into the Post Office event when we are passing through. So many of them have gone, we like that one so much!
Morthoe, we're back there this weekend. Some of the reasons are listed above why. I hope you enjoy it as much as we do!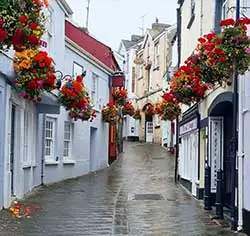 Maximise Your Bideford Adventure!
Our newsletter is packed with helpful tips and resources to help you mazimise your time in & around Bideford. Sign up now and join our community of savvy Bideford'ers.
About the Author
Welcome to Bideford.com! I'm Matt, a seasoned explorer and avid fan of Bideford and the broader North Devon area. With over a decade of consistent family visits, virtually every weekend, I've immersed myself in the rich history and vibrant culture Bideford & North Devon.
On this site, you'll find a wealth of knowledge amassed from my adventures here. From in-depth local guides to engaging blog posts about Bideford. Whether you're looking for recommendations on things to do or guidance on where to stay we have you covered. Join me as we delve into the heart of Bideford, North Devon – a town that's more than just a destination, but an experience waiting to be discovered.
Do you want to see your favourite Bideford attraction, place to stay, event or activity listed here? Contact Us!