North Devon, a gem in the Southwest of England, is a premier surfing destination for the UK. With its stunning beaches and variety of waves, it's perfect for surfers of all skill levels.
North Devon has absolutely stellar surfing beaches and in this comprehensive, local's guide, we cover ALL of the surfing beaches here in North Devon, having included videos by locals and those visiting, so you can see the beaches in-the-real and the other things you need to know too, like parking & facilities
Let's rip…
| Beach | Best For | Wave Quality | Wind Conditions | Lifeguard Patrol |
| --- | --- | --- | --- | --- |
| Woolacombe | Beginners | Variety of waves suitable for all levels | Be wary of a Northerly wind | Easter to September |
| Putsborough | When Woolacombe is blown out | Similar to Woolacombe | Be wary of a Sotherly wind | No |
| Croyde | Advanced/professional surfers | High-quality, powerful waves | Best with Easterly winds | April to late October |
| Saunton | Beginners and longboarders | Gentle surf and flat beach | Protected from northerly winds | No |
| Westward Ho! | Learners | Soft waves, consistent surf | N/A | May to Sept |
Woolacombe Bay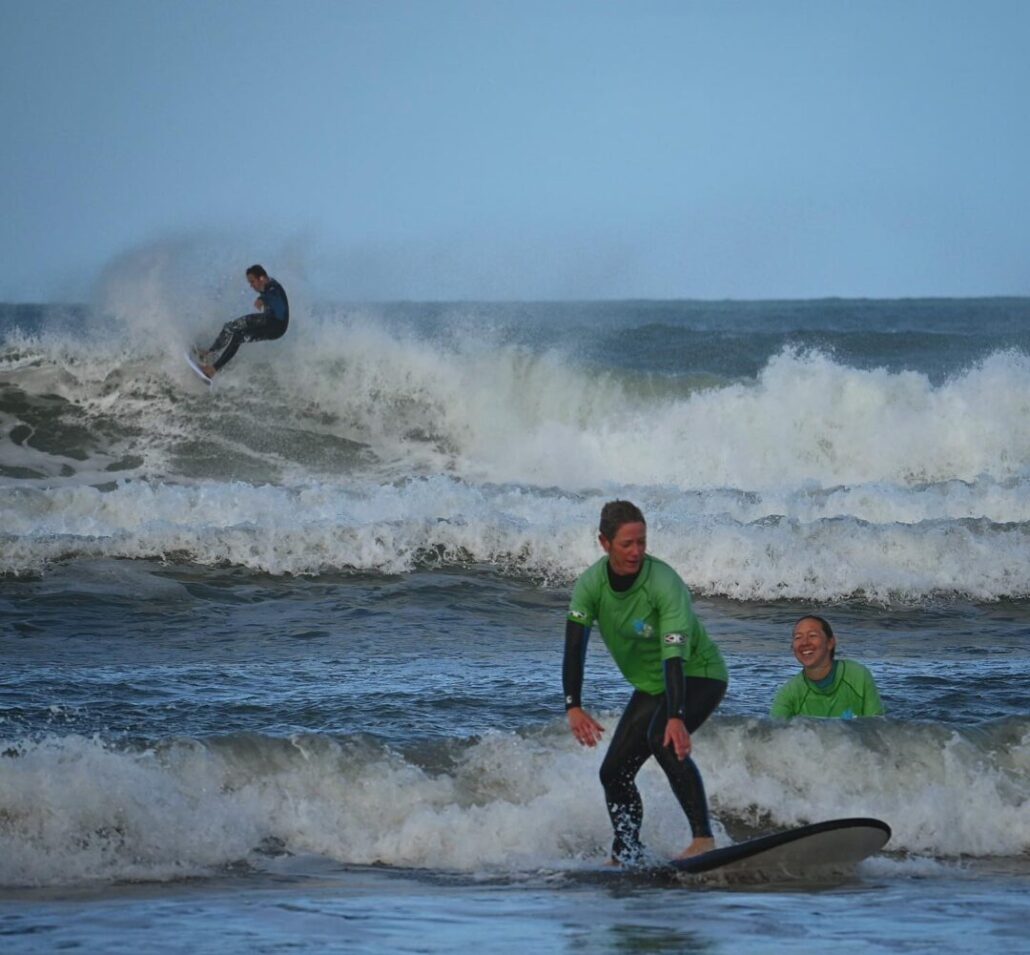 Woolacombe Bay, a stunning stretch of golden sand, is one of the safest and most scenic places to begin surfing.
With numerous surf schools in the area, getting a lesson here is easy. Once you have the basic idea, Woolacombe Bay is a great spot to get in the water regularly.
A lifeguard patrols the beach from Easter until September from 10 am to 6 pm ensuring safety for all beachgoers.
One thing to be wary of at Woolacombe is with a Northerly wind, you will get gradually pushed towards the rocks at the North end, so be very aware of this and the RNLI lifeguards when on duty will move down the beach to help combat this.
Woolacombe is amazing for surfing because:
Wave Quality
Woolacombe offers a variety of waves suitable for all levels of surfers. The waves are consistent and can get quite big, especially during the winter months. The beach break provides both left and right-hand waves.
Best Time to Surf
The best time to surf in Woolacombe is during the winter months when the swells are larger. However, the beach can get quite crowded during the summer months due to its popularity.
Tide Conditions
Woolacombe can be surfed at all tides, but it's best around mid to high tide. Low tide can expose some rocks, so it's important to be aware of the conditions.
Wind Conditions
Offshore winds from the east provide the best conditions for surfing at Woolacombe.
Parking & Facilities
Woolacombe is extremely popular, especially with families, hence it has multiple public toilet blocks, cafes, pubs, surf hire shops etc…
Parking on the street to the North of the beach is better value for money if there are under 4 hours and there are four nearby carparks.
We've been there in the height of summer and have still been able to find a parking spot. Also south of the stream that breaks the beach apart is dog friendly during the summer, so your dog can also join in surfing too!
Woolacombe Bay Video
Watch this video to see Woolacombe Bay in action. We've added a summary to the video below to help you.
Surfing in North Devon is addictive and has a strong community atmosphere, akin to going to a pub on a Friday night.
The area offers a variety of high-quality surfing beaches, including Woolacombe, Saunton, and Croyde, each presenting unique challenges for surfers.
The region has a rich history of surfing, including participants in world record events such as surfing the biggest wave, which was 78 feet.
Local craftsmen produce high-quality surfboards in the area, comparable to the best in the world in terms of polish, finish, and craftsmanship.
The region's natural beauty, like the fully flowered pinks on the cliff tops, contributes to the overall surfing experience.
The community includes not only surfers but also other professionals like electricians and plumbers who adjust their schedules around the surf conditions.
If you're new to surfing, the region boasts several surfing schools that can provide necessary instruction on technique and safety.
The region's diverse range of beaches and surfing conditions is accessible year-round, thanks to advancements like wetsuits.
The area has a deep surfing history, with modern surfing culture starting in the early 1960s. The community is made up of genuine people who are deeply committed to the sport.
Putsborough Sands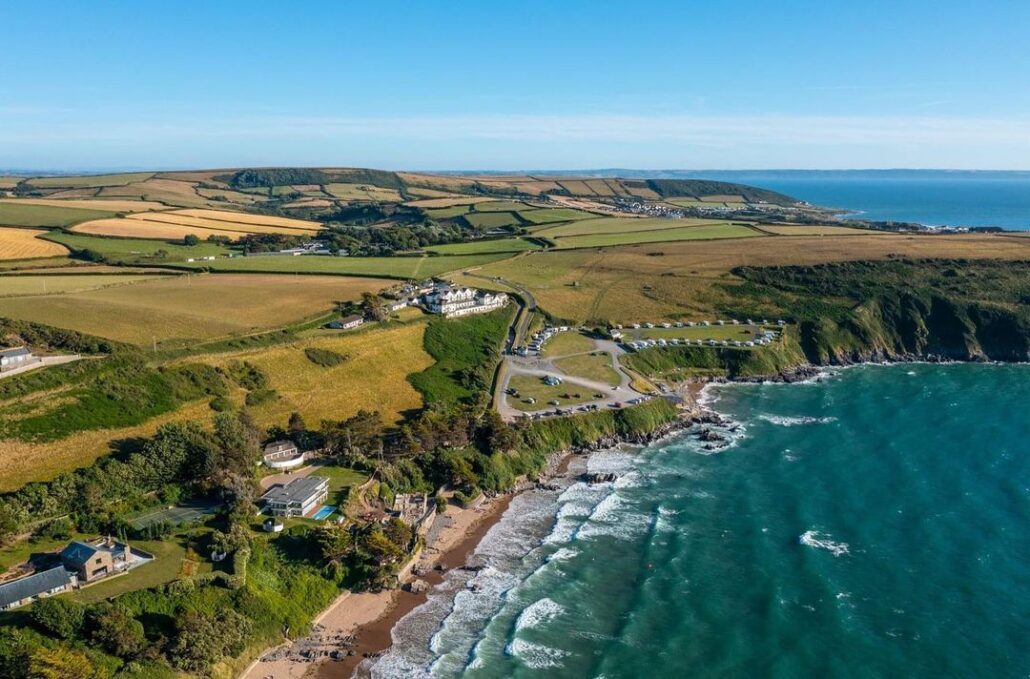 Situated at the end of Woolacombe Bay is the gorgeous Putsborough Sands.
Sheltered by the beautiful headland, Baggy Point, this beach is the go-to spot when the wind is strong in Woolacombe and the surf is blown out.
As this beach is basically Woolacombe Beach, but at the South end, you can expect extremely similar surf characteristics as Woolacombe but works when Woolacombe does not.
Although lifeguards do not patrol this beach, it's good to take note of the surroundings and keep an eye on the rocks, especially at high tide.
The rocks are to the left/South of the beach and you will see highly experienced surfers using the swell against the sides.
Unless you classify yourself as highly experienced we would strongly not suggest doing that, as the beach is so long there are lots of opportunities away from the risks of the rocks.
Parking & Facilities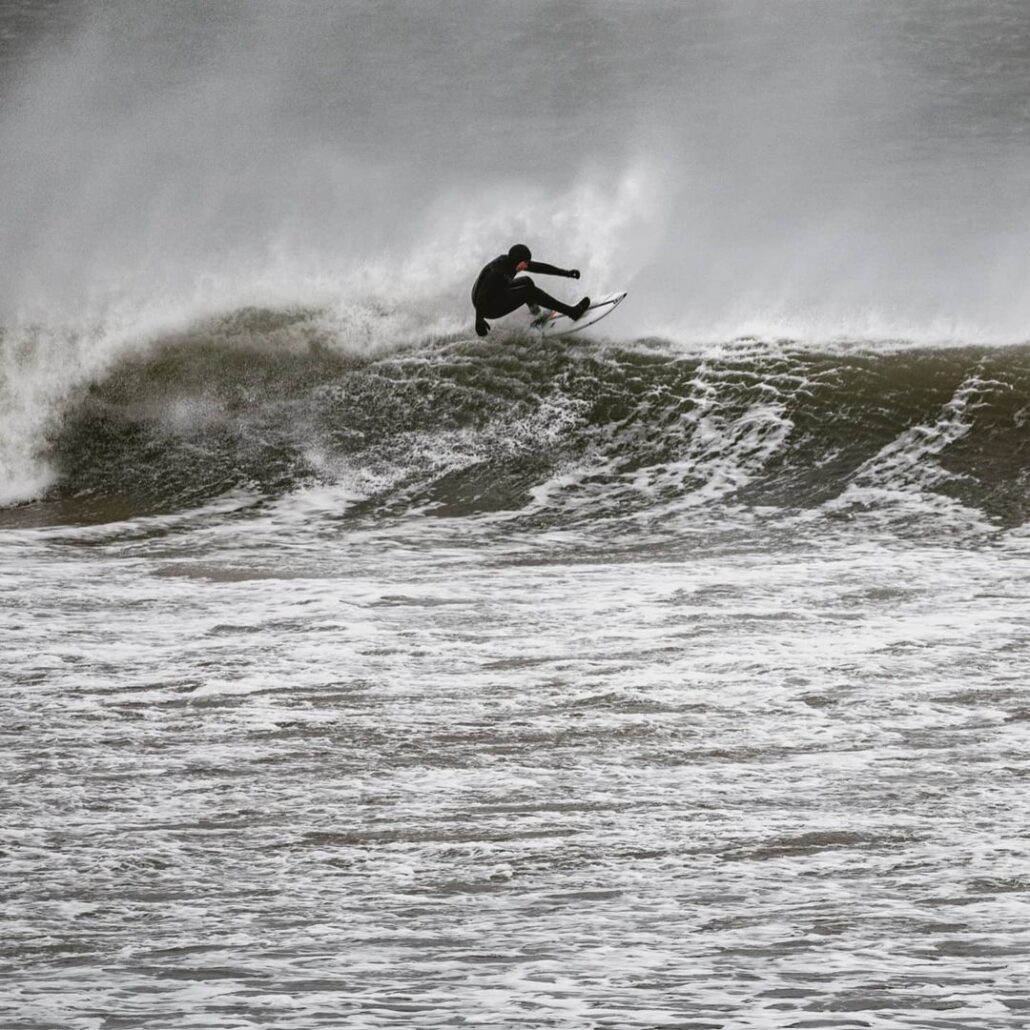 There is no on-road parking and it's managed by the caravan park below. Also, the roads to the beach here are very narrow. I drive an XLWB Boxer van and it's "tight" even in the winter.
Parking at Putsborough Sands is expensive compared to elsewhere in North Devon (typically only £6-9 for the day). A daily car parking ticket is £12, and weekly tickets are £58.
Toilets are on site and there is a popular cafe/shop too.
If you read the reviews there have been recent instances of issues with surfers having issues with refunds, as you have to pay to enter, but then if you quickly realise that the conditions are not good enough, some surfers have had arguments with the car parking attendant (see recent Google reviews).
Croyde Beach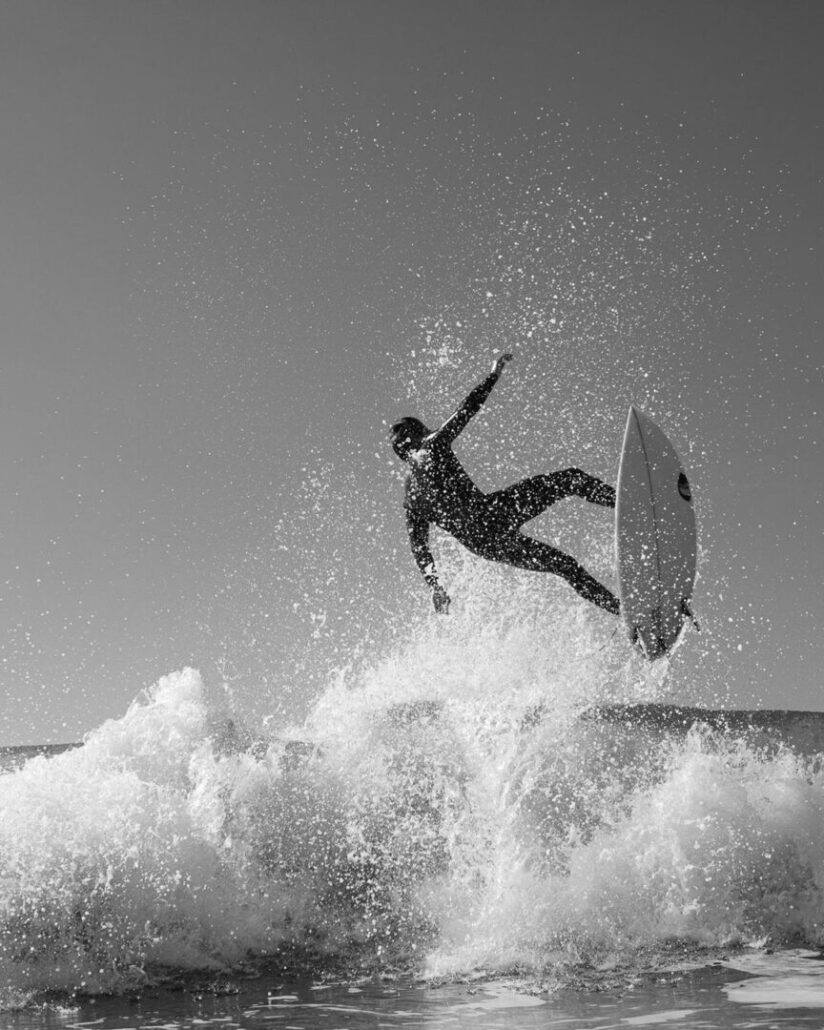 Croyde Beach is a challenging spot with powerful waves and strong rip currents, making it ideal for advanced and professional surfers.
Try surfing during low tide for the most exciting waves or high tide for a friendlier experience. The beach works best with northwest to southwest swells and easterly winds.
There are multiple surf schools in Croyde to help you feel more confident in the water. The schools will target high tide to help tame the rip currents and the dumping of waves that beginners will not be used to.
Croyde is covered by RNLI lifeguards during the summer months (29 April-24 September in 2023) and much later into the year too, right up to the end of October for the school half term.
A couple of fo key details about Croyde Bay for surfing:
Wave Quality
Croyde Beach is famous for its high-quality, powerful waves that make it a hotspot for advanced and professional surfers. The beach break provides both left and right-hand waves, offering a thrilling surfing experience.
Best Time to Surf
Croyde Beach can be surfed throughout the year, but the waves tend to be more powerful and challenging during the winter months.
Tide Conditions
High tide at Croyde Beach is ideal and provides some fun, beginner-friendly waves. However, the low tide should be approached with caution as the waves tend to dump, making it more suitable for experienced surfers.
Wind Conditions
The beach works best with easterly winds, which provide the best conditions for surfing.
Parking & Facilities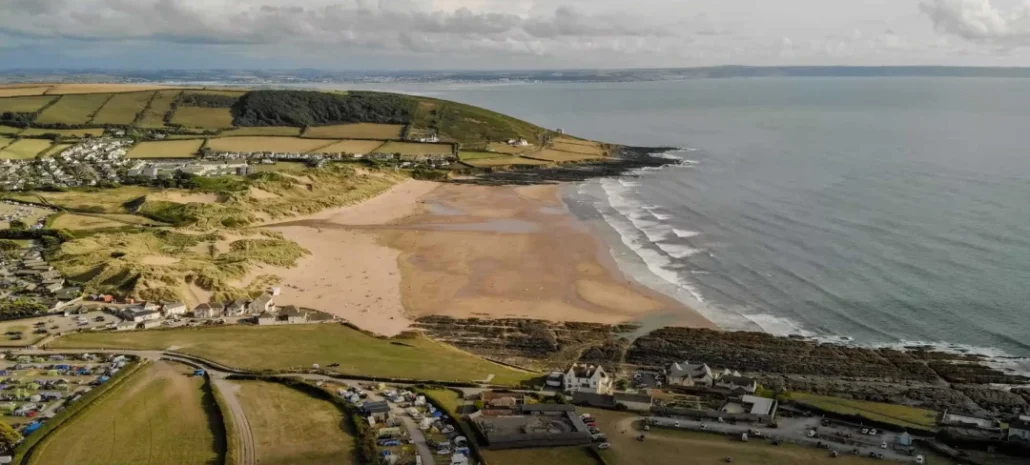 There are some excellent pubs, cafes and local shops in Croyde. It's a really nice village to pop in on, even if not surfing and especially during the evening too.
Croyde is basically a small North Devon village, as such the roads are tight and parking can be an issue during the summer months. So definitely arrive early.
There are two main carparks on either side of the bay, with extremely limited on-street parking in the village.
Larger Vehicle?
If you're driving anything larger than a VW campervan, I would strongly suggest not attempting the National Trust carpark to the North of the bay.
Again having personally taken an XLWB van to it, I missed that wall by millimetres turning into the entrance.
Croyde is the LEAST Friendly place for dogs in North Devon
If you have a dog then basically Croyde is the least friendly place in Devon for dogs.
None of the campsites allows dogs, one even goes to quote "No dogs, beach rules" (which is incorrect) and is the only beach that does not allow dogs in the summer.
We have a dedicated guide to Croyde Beach and dogs. The short version is that they are allowed in the winter, but in the summer, they are only allowed in the dunes at the back of the beach.
It's a shame as most of the shops, cafes and pubs allow dogs behind the beach. We are a dog family and we basically skip visiting Croyde because of this.
Croyde Beach Video
See this video to experience Croyde surf in action. We hand-picked it as you really do get to experience the waves first hand and it's very recent too.
Featured Places to Stay Near Bideford
Saunton Sands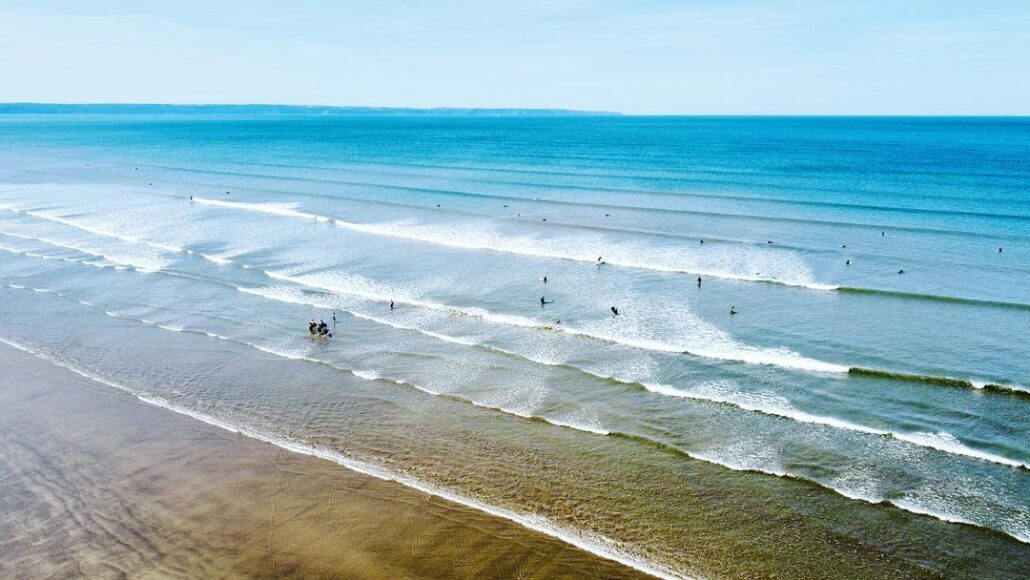 Saunton Sands is a longboarder's paradise! It's gentle surf and flat beach make it perfect for cruising and learning to surf.
The northern headland protects surfers from northerly winds, making Saunton Sands a must-visit destination when other beaches are not working.
Saunton Sands is not a lifeguard-patrolled beach.
As such, as a parent, if you have kids with you we'd suggest Woolacombe or Westward Ho! instead. Unless you're confident in their abilities.
We were here very recently and even at 6:30 pm in the evening, there were at least 40 surfers in the water waiting to catch their waves (and watching the sunset over the sea was amazing too!)
Wave Quality
Saunton Sands is known for its neat, consistent waves that are perfect for both beginners and experienced surfers. The beach break provides both left and right-hand waves, offering a versatile surfing experience.
Best Time to Surf
Saunton Sands can be surfed throughout the year. However, when other beaches are windy, Saunton tends to provide some shelter, making it a reliable spot for surfing.
Tide Conditions
Saunton Sands can be surfed at most tide times. However, always check the local surf report and be aware of the conditions before you head out.
Wind Conditions
The beach is somewhat sheltered, providing good conditions for surfing even when other nearby beaches might be too windy.
Parking & Facilities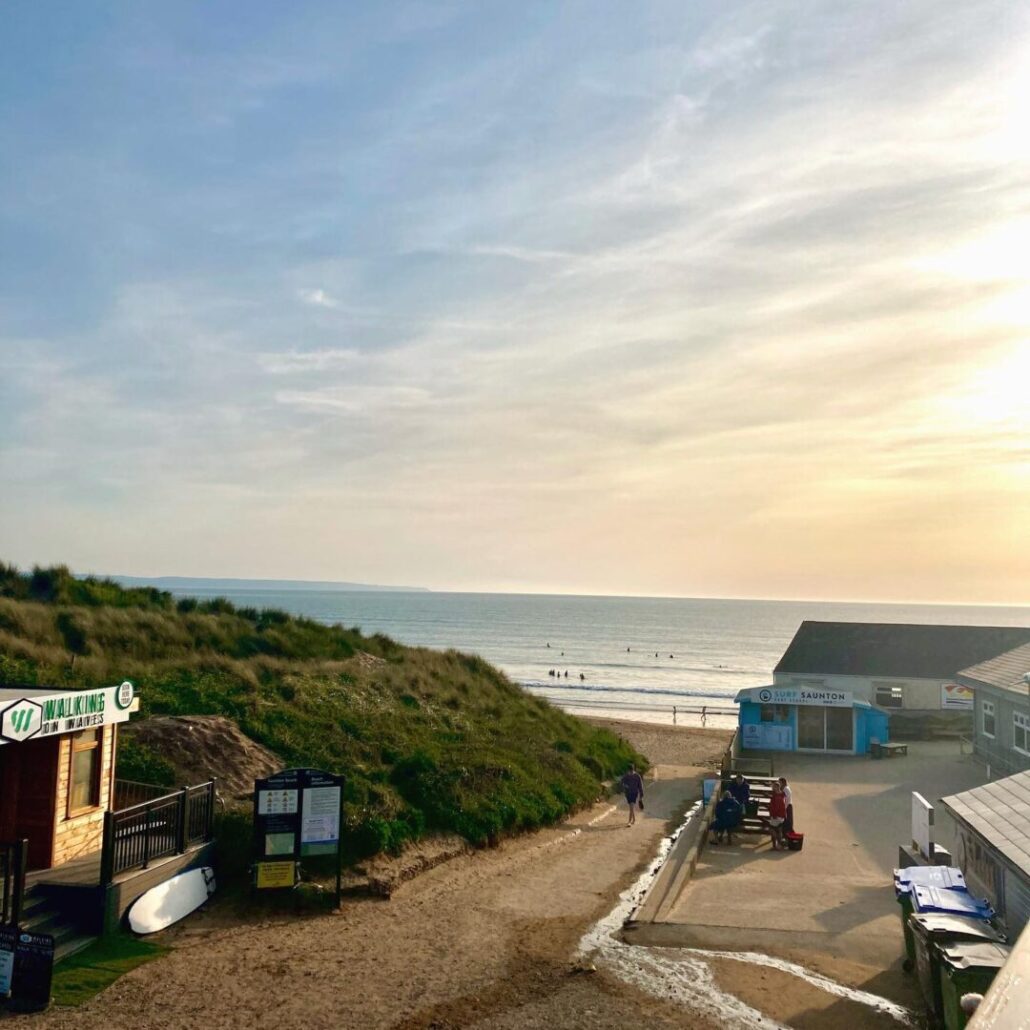 Parking prices are sensible and the carpark is absolutely huge.
We have been there in the summer and even with it being "packed", the carpark has been big enough even to cater to a large van.
Onsite are public toilets, two cafes, a surf school, a restaurant and there is a hotel that looks over the whole beach area for those with more expensive tastes than a lolly pop and a pint of coffee.
Saunton Sands Video
Check out this video to see Saunton Sands in action. Again, we've added a summary of the video below about her surfing experience here.
The vlogger surfed at Saunton Sands Beach in North Devon, England, and considered it an excellent beach for beginners and longboarders.
She used a GoPro to document her experience, although mentioned some difficulties using it in the water.
The day at the beach was described as 'glorious' and 'perfect' with beautiful wave lines suitable for surfing.
She used two different boards during her trip, an eight-foot and a nine-foot-five board. She enjoyed using both and felt they performed well.
Despite initial nervousness due to a period of not surfing, she successfully enjoyed the day and even managed to catch many waves.
After the beach trip, she had a pasty – her second of the week, suggesting a fondness for the local food.
The vlogger felt tired but in a good mood after the day out.

Related Post:
Discover North Devon's Best Surfing Beaches
Westward Ho!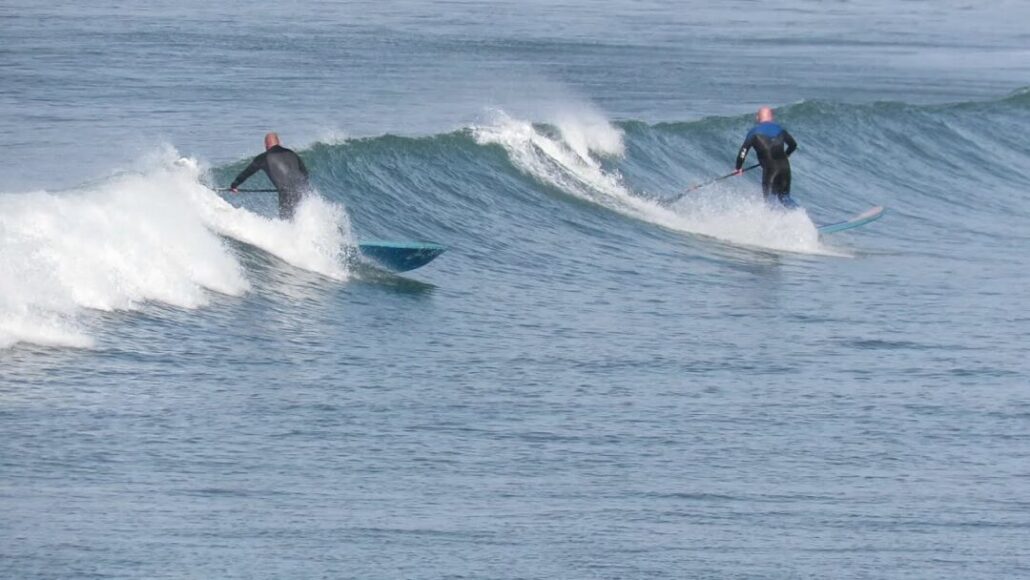 Westward Ho is the ultimate spot for learners. With soft waves and a spaciously long beach, you'll enjoy surfing here all year round.
The south end is sheltered during southerly winds, while the north end (Sandymere Beach) attracts waves even when other beaches are flat.
There are a couple of surf schools here, a personal recommendation is the one below. James is amazing and has helped us learn to surf.
One thing to note with Westward Ho is that the tide will come all the way up the boulders at the back of the beach at high tide.
And when the tide goes out, it feels like it goes out for miles! See the video below. To be honest, it's probably the same distance as all the other beaches mentioned just looks further away because of the boulders that make up the ridge line.
Wave Quality
Westward Ho! is an ideal spot for learners due to its soft waves and spacious beach. It offers a consistent surf that can be enjoyed all year round. The beach break provides both left and right-hand waves, making it a versatile spot for surfing.
Best Time to Surf
Westward Ho! can be surfed throughout the year. The south end of the beach is sheltered during southerly winds, while the north end (Sandymere Beach) attracts waves even when other beaches are flat.
Tide Conditions
Westward Ho! can be surfed at most tide times. However, always check the local surf report and be aware of the conditions before you head out.
Wind Conditions
The beach is somewhat sheltered, providing good conditions for surfing even when other nearby beaches might be too windy.
A special note is at high tide, Westward Ho Beach has a pebble ridge, the sea comes up to and onto this ridge, so surfing at the height of high tide is not suggested.
Parking & Facilities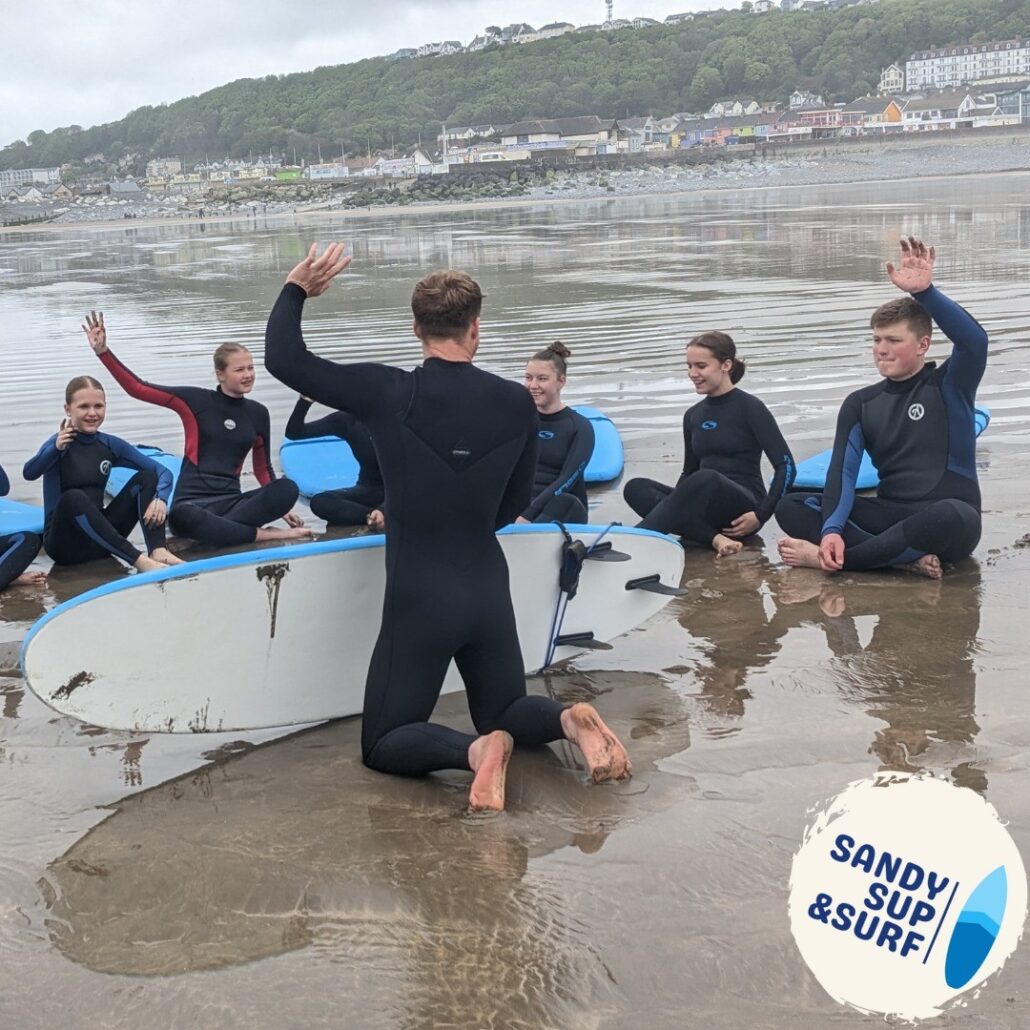 The Northam Burrows parking is £6 for the day (2023) and covers a huge area. There are two much smaller carparks at the south end of the beach. Just be wary that the Tesco carpark is only 30 minutes parking.
Several cafes, toilets, amusements and pubs are at the south end of Westward Ho.
The beach is dog friendly all year round but see our article "Are dogs allowed on Westward Ho Beach" for more details as it has a map for the summer months.
Westward Ho! Video
Watch this video to see Westward Ho in action.
All the footage is taken using a drone and you really get to see the epic size of the long-lasting waves and beach here.
Also! North Devon: A World Surfing Reserve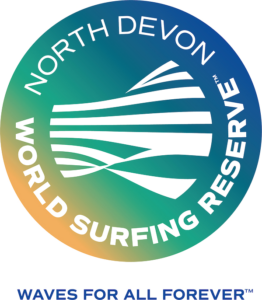 North Devon, celebrated for its exceptional surfing beaches, has earned the prestigious title of the 12th World Surfing Reserve.
This international recognition not only applauds the area's high-quality surfing beaches but also rallies the local community to safeguard them.
The North Devon Surfing Reserve spans approximately 30 km of a world-class surf zone, encompassing iconic breaks such as Croyde, Saunton, Woolacombe, and Lynmouth.
It is the first of its kind in the UK and the first-ever cold-water World Surfing Reserve, with the best waves often arriving in the winter season.
The establishment of the Reserve empowers the local surfing and beach-going communities in decision-making processes that affect the North Devon coastline. The aim is to protect the surfing experience from threats such as harmful coastal development, pollution, and climate change.
The North Devon World Surfing Reserve is a commitment to preserving its natural beauty and unique surf culture for future generations.
It's definitely a testament to North Devon's status as a world-class surfing destination and a hub of surf culture.
Before We Wrap Up
This guide is just one of many here on this site about surfing in North Devon and its history. See our other surfing guides here:
In Summary…
To wrap things up, North Devon is indeed a surfer's paradise.
From Woolacombe's welcoming waves for beginners to the thrilling rides at Croyde for professionals, there's a spot for every surfing enthusiast.
Remember to respect the local conditions, like the changing winds and lifeguard patrols, for a safe and memorable experience. Just taking a few minutes to work out what the surf is doing, can save you wasted time!
If you're a dog owner and they love to surf as well, rest assured, there's plenty of space for your dog to enjoy at almost all the beaches, well… except for Croyde during the summer months.
And for those looking to learn or perfect their skills, Saunton Sands and Westward Ho! provide a forgiving environment with their gentle surf and extensive beaches.
So grab your board, let's 'rip', and make the most of the exceptional North Devon surf.
Lastly, don't forget to explore other local attractions in Bideford and the surrounding areas. It might not have its own beach, but it's the perfect location to explore them all from!
If you have a favourite spot or an experience you'd like to share, we're all ears. Feel free to get in touch, we'd love to feature your stories and tips on our site.
Surf's up and happy splashes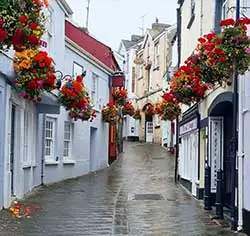 Maximise Your Bideford Adventure!
Our newsletter is packed with helpful tips and resources to help you mazimise your time in & around Bideford. Sign up now and join our community of savvy Bideford'ers.
About the Author
Welcome to Bideford.com! I'm Matt, a seasoned explorer and avid fan of Bideford and the broader North Devon area. With over a decade of consistent family visits, virtually every weekend, I've immersed myself in the rich history and vibrant culture Bideford & North Devon.
On this site, you'll find a wealth of knowledge amassed from my adventures here. From in-depth local guides to engaging blog posts about Bideford. Whether you're looking for recommendations on things to do or guidance on where to stay we have you covered. Join me as we delve into the heart of Bideford, North Devon – a town that's more than just a destination, but an experience waiting to be discovered.
Do you want to see your favourite Bideford attraction, place to stay, event or activity listed here? Contact Us!