Bideford is nestled in the heart of Devon, UK. Often described as a "treasure trove of finds", Bideford is filled to the brim with unique, charming, and delightful shops that make shopping a fun experience.
Whether you're a resident, a tourist, or an online explorer, prepare yourself for a journey that goes beyond just purchases.
From the historic lanes teeming with independent boutiques to the bustling Bideford Pannier Market vibrant with colours, smells, and textures – shopping in Bideford isn't just a transaction; it's a heartwarming adventure, all while supporting the local economy and artisans.
So, whether you're looking for the perfect gift, updating your wardrobe, seeking out antiques, or just wanting to enjoy a day exploring unique shops, Bideford is the place to be.
Prepare yourself for an unforgettable retail therapy experience here for North Devon shopping, as we present to you our ultimate guide to Bideford shops, a locals guide and tips to the area. Let's embark on this exciting journey together.
| Key Takeaway | Description |
| --- | --- |
| Bideford's Shopping Charm | Discover a unique shopping experience in a town cherished for its local, independent businesses and artisans. |
| Popular Shopping Locations | Explore Bideford Town Centre, Pannier Market, and Affinity Devon Outlet Shopping Centre for a variety of shops. |
| Shop Types | Enjoy independent boutiques, antique shops, art galleries, speciality food stores, clothing stores, and bookshops. |
| Bideford Shopping Events | Join the lively Bideford Pannier Market and Farmer's Market for local produce and crafts. |
| Tips for Shopping in Bideford | Plan your visit considering opening hours, walkable town layout, and sustainable shopping practices. |
Why Shop in Bideford?
Dive into the realm of local artisans, antique collectors, quaint shops and unique boutiques that make Bideford a shopper's paradise.
Indulge in the pleasure of strolling through a town that cherishes local, independent businesses. Every purchase you make here helps fuel a community, making you a part of Bideford's vibrant economy.
If you want brand retail, Bideford has that, if you want quaint and quirk, oh Bideford has that in spades too!
Popular Streets for Shopping
Here in Bideford, we have several key places where you'll find retail joy and discover some fantastic back-street cafes along the way too.
To help you, we have broken this up into the sections, Bidefords town centre and also the stores and shops on Clovelly Road, just a few minutes away from the town centre.
Bideford Town Centre Shopping
The best place to start is on the quayside, Stroll along the picturesque, historic Quay, this is where you'll find many of the town's festivals and events being held throughout the year and you cannot miss the long bridge.
Opposite the Quay carpark and to the right of the Devon Air Ambulance Trust charity shop, you'll find "High Street". This is the beginning of local businesses in Bideford.
The High Street has a lot more shops than you first think on it and goes really quite far up the hill.
This is where you'll find Boots, chemists, art galleries and a collection of smaller and larger shops. Do go up at least as far as Suer Ryder on the right side of the hill. Just beyond there is a cafe and tattooist.
Bideford Pannier Market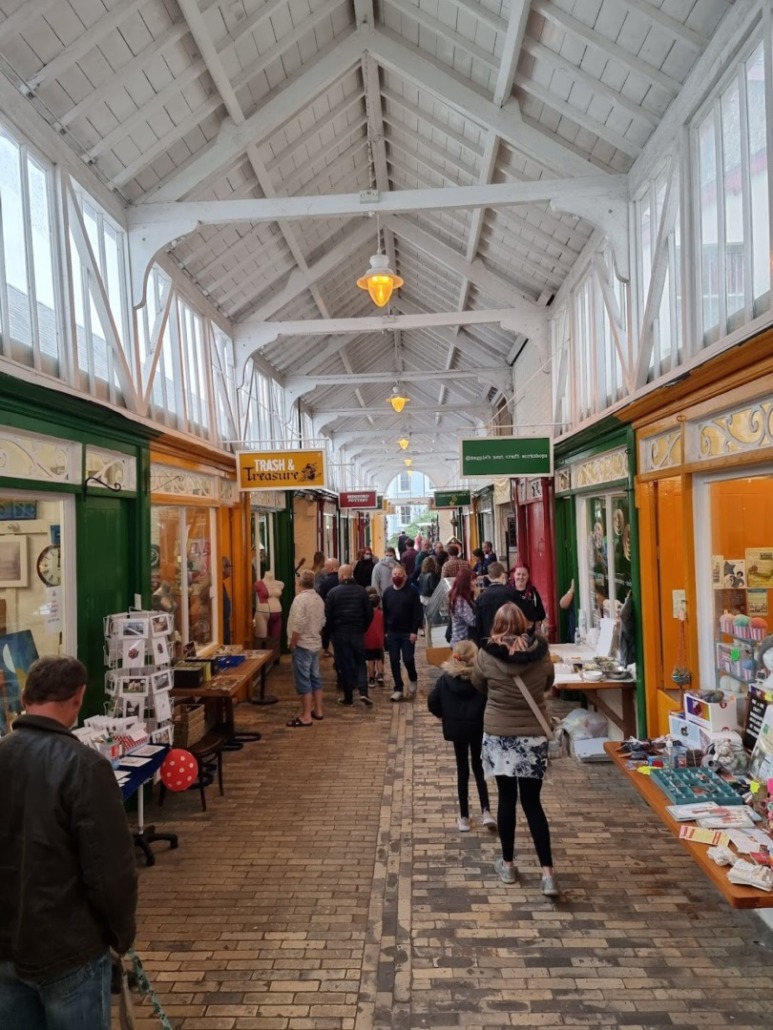 This is one of those weird places, which if you don't know it's there, you'll miss it (and you don't want to miss it!)
As you go up High Street, turn left onto Grenville Street. Just follow your nose along and you then cannot miss the Pannier Market to your left. This really is one of the best reasons to shop local in Bideford, as you're helping out local business owners all under one roof.
Locals Tip:
Just opposite the "Bideford Computers" store, the Rockministry Hub has fantastic coffee. It is a religious cafe and they certainly have some entertaining events there, to say the least!
There has been a market here since 1675 (previously it was on the high street itself) and today there are over 30 independent shops & stalls that make up the market.
Opening Hours: The market is closed on Mondays & Sundays. And is open from 9am to 5pm, Tuesday to Saturday.
If you would like to know more about the Bideford Pannier Market, see our extensive guide.
Don't Miss Mil Street!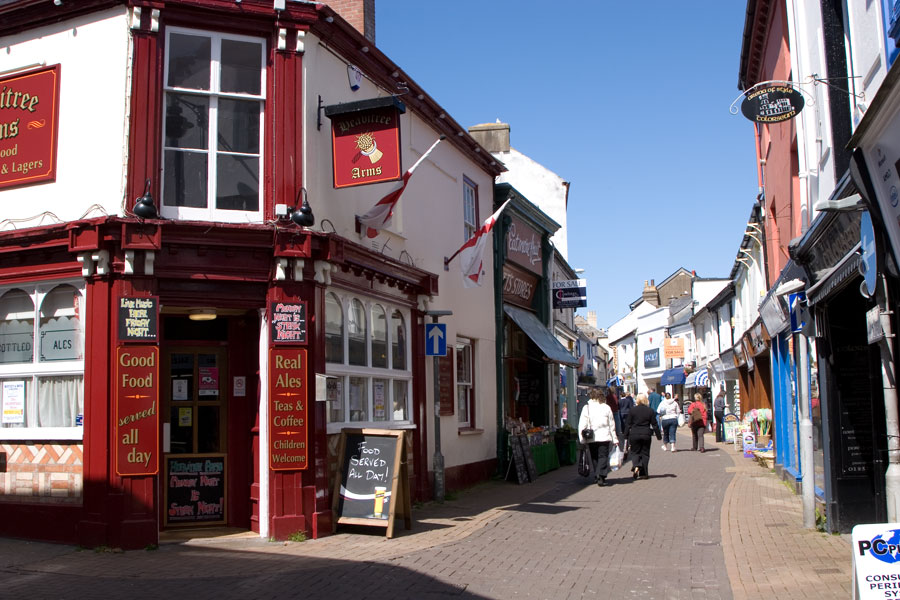 As you come back down the hill on the High Street, to your left by the mobility store is a small side street. You could easily miss this, hence why we're pointing this out specifically as it's THE best street to go shopping on in Bideford town.
Mill Street, while only ~760ft long, but seems to go on forever.
This is where you'll find bookstores, a hardware store that is like a hidden tardis (seriously, go into "Blanchards" just for the experience, the staff are friendly too), pet shops, cafes, pubs, a sweet shop, a bakery and a couple of charity shops too.
In the summer the town council hang baskets all the way along Mill Street and it's one amazing place to literally "mill" your way through as you work your way through the quaint stores.
At the end of Mill Street where it meets Birdgeland Street, you have two choices, if you have a dog with you, do carry on to the left to the "Create Comforts" shop, or maybe for a pint in the Appledore Inn.
Or turn right down Birdgeland Street, you have the Oxfam shop on your left and a JD Weatherspoons (The Rose Salterne) to your left and this will bring you back out onto the Quayside.
If you have kids, if you turn left, Bidefords Victoria Park is just 2 min walk away (swings, cafe, cannons and a splash pool!).
If Antique shops are your thing, then turn left and follow the pavement around, past the post office and discover "Old Bridge Antiques" just before Bathwick Tyres. There is also a vape shop at the end of that row too.
Affinity Devon Outlet Shopping Centre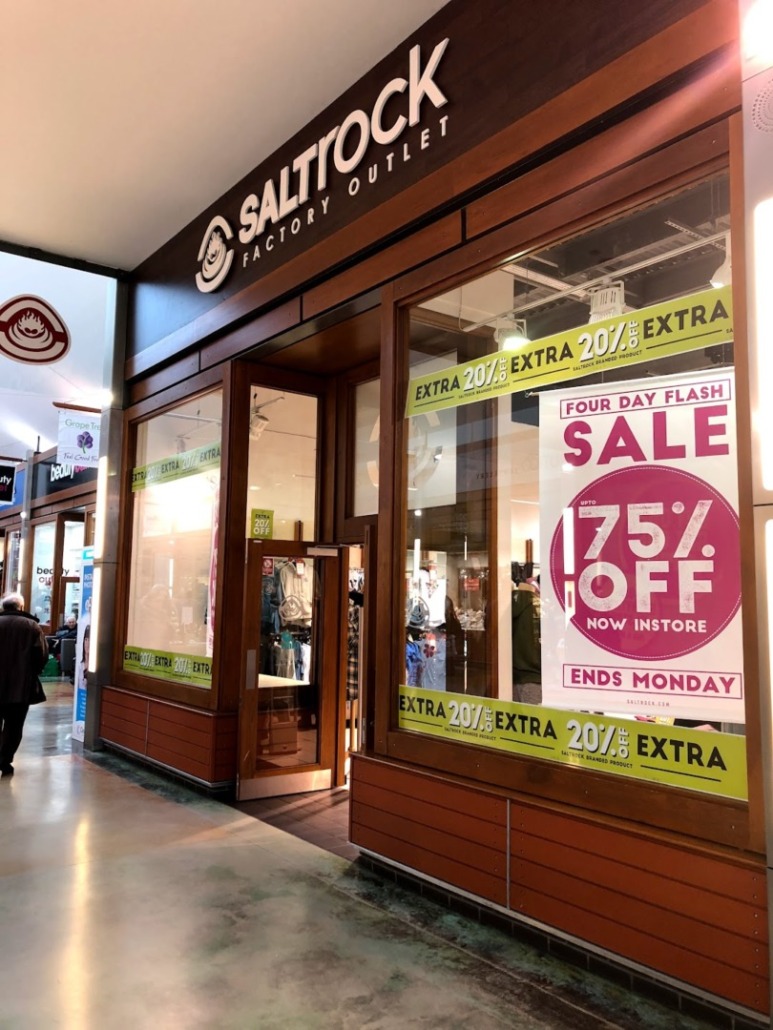 Just a few minutes (about 10) out the south of Bideford on Clovelly Road, you'll find the Affinity Devon Outlet shopping centre. You'll also find Premier Inn Bideford, Brewers Fayre, Macdonalds, Starbucks and Dominis across the road.
Locals Tip:
As you drive into Affinity Devon Outlet shopping centre, most people turn left to the car park by ASDA. During busy times this side gets packed and finding a spot can be tricky. So at the roundabout, turn right instead, and go past the petrol station You can then cut back down to the shopping centre in the "theatre" part and enter the mall that way.
Its a shopping mall, so is a perfect bolt-hole if the weather has turned bad, here is a list of the stores you'll find in the shopping mall vicinity:
Animal.
Beauty Outlet.
Bonmarché
Boutico Jewellery.
Card Factory.
Claire's Accessories.
Clarks.
Costa.
Cottom Traders
Crew Clothing
Daws
EWM
Gift Company
Holland & Barret
Julian Charles
Klass
lazy Jacks
Mountain Warehouse
Next Outlet
Pavers
peacocks
ProCook
Quba & Co
Roman
Salt Rock
Sketchers
Sports Direct
Cornish Bakery
The Fragrance Shop
The Works
Trespass
Urban
WeirdFish
Locals Tip:
If you need to tire the kids out some more, to the back of the shopping centre is Wonder World / Really Wild Planet and you'll find Waves Soft Play just 2 minutes away from the main shopping centre, it's over by Toolstation & Screwfix.
Featured Places to Stay Near Bideford
Shop Types in Bideford: Your Choices
You're really spoilt for choice choices in Bideford, especially if we combine both the Bideford town centre area and large shopping area on Clovelly road.
Independent Boutiques
Full of charm and unique items, the independent boutiques in Bideford offer a shopping experience like no other. These stores often carry items you won't find anywhere else.
Antique Shops
Bideford's antique shops are a haven for collectors and history lovers. Each item comes with its own story and a touch of nostalgia.
Art Galleries
Find stunning pieces of local art and craft in the numerous galleries dotted around the town. A perfect opportunity to bring a piece of Bideford home.
Speciality Food Stores
Explore the delicious world of Bideford's speciality food stores, offering local produce and gourmet treats.
Clothing and Fashion Stores
Stay in style with the latest trends available in Bideford's fashion stores. You can find a mix of popular brands and unique designer pieces.
Bookshops
Bideford's bookshops are a paradise for book lovers. From the latest bestsellers to rare finds, there's a book for every reader.

Related Post:
17 Reasons Why You Should Absolutely AVOID Woolacombe
Bideford Shopping Events & Market Days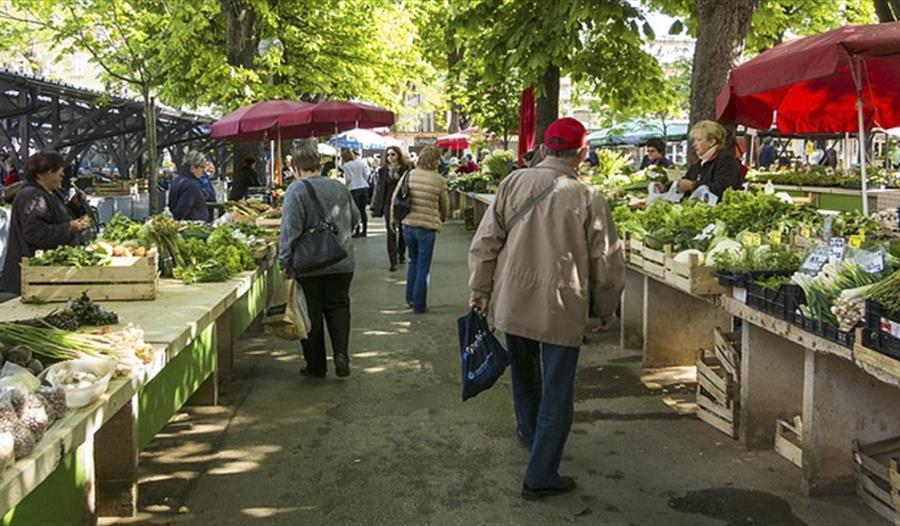 Don't miss the Bideford Pannier Market, a true embodiment of Bideford's vibrant community spirit. With local artisans, farmers, and traders coming together, it's a weekly celebration of local produce and craftsmanship.
The market is not just a shopping destination but an opportunity to engage with the local community and discover some of Bideford's finest goods.
Bidefords Famers market happens every 2nd and 4th Saturday on Bideford Quay.
Tips for Shopping in Bideford
Before embarking on your Bideford shopping adventure, remember these handy tips.
First, local shops often keep traditional opening hours, so it's worth checking before your visit.
Next, Bideford is a mostly a walkable town, High Street has an incline on it but it's really not that steep and you're only looking to go a fraction of the way up to turn left to discover the pannier market (it gets really steep after that though!).
Locals Tip:
If you're not going to cope with the incline of the hill on High Street, there is taxi rank at the bottom of the hill!
But there's also a good range of public transport and parking options if you're planning a bigger shopping spree, especially if you're going out to the Affinity Devon shopping centre.
And lastly, don't forget to bring reusable shopping bags! Bideford is proud of its commitment to sustainability.
Bideford Shops
With its wide array of shops, ranging from charming boutiques and antique shops to art galleries and speciality food stores, Bideford truly offers a unique shopping experience.
So whether you're a local or a tourist, a shopaholic or a casual shopper, there's something for everyone here. Immerse yourself in the culture, discover one-of-a-kind items, and become part of the town's vibrant shopping scene.
Happy shopping!
We hope this guide helps you navigate Bideford's shopping scene. Have you discovered a shop in Bideford that we didn't mention? Please share your recommendations in the comments.
And if you enjoyed our guide, don't forget to share it on your social media channels. For more updates about Bideford and other local guides, sign up for our newsletter.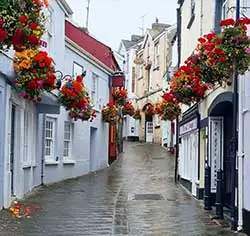 Maximise Your Bideford Adventure!
Our newsletter is packed with helpful tips and resources to help you mazimise your time in & around Bideford. Sign up now and join our community of savvy Bideford'ers.
About the Author
Welcome to Bideford.com! I'm Matt, a seasoned explorer and avid fan of Bideford and the broader North Devon area. With over a decade of consistent family visits, virtually every weekend, I've immersed myself in the rich history and vibrant culture Bideford & North Devon.
On this site, you'll find a wealth of knowledge amassed from my adventures here. From in-depth local guides to engaging blog posts about Bideford. Whether you're looking for recommendations on things to do or guidance on where to stay we have you covered. Join me as we delve into the heart of Bideford, North Devon – a town that's more than just a destination, but an experience waiting to be discovered.
Do you want to see your favourite Bideford attraction, place to stay, event or activity listed here? Contact Us!