I'll be honest with you, I saw the TripAdvisor article for 10 things to do in Bideford and frankly knew we could do better, much, much better for you.
So here is our ultimate guide on things to do in Bideford for 2023.
For this, we're assuming you're a family and have both kids and probably a big kid to keep amused, but all of these things to do in Bideford will absolutely work if you're just a couple too.
So if you're looking for a mixture of free things to do, things to do if the weather is bad, things to do to keep you moving or outside if the sun is out. We've got all the major things you can do in Bideford right here for you.
A car would be helpful for some of these, but none are more than 10 minutes from Bideford Quayside. All are covered inexpensively by bus routes from the quayside in Bideford.
Let's get started!
Free Things to Do in Bideford
The reality is that there are loads and loads of things to do for free in and around Bideford.
So much so that we had trouble whittling this down to just three things for this section, so we are going to completely ignore these other free things to do in Bideford:
Victoria Park & Padding Pool
Victoria Park at the north end of Bideford quay is open from 07:30 in the morning and the kid's paddling pool is open from 10 am to 5 pm, every day.
There are loads of things for the kids to do in the park, such as play on the swings, and splash in the pool on better days, there are even cannons for wanna-be pirates to attack passing ships and a 1/3rd size baseball court too.
Plus there is a cafe and a free art gallery and museum in the corner of the park. If you take a stroll around the park, you'll realise it's a lot bigger than you first think!
On sunny days, you'll always find an ice cream van at the front gates. If you want to be naughty, say yes to clotted cream being wiped around the ice cream (it's so nice!)
Shopping through Mill Street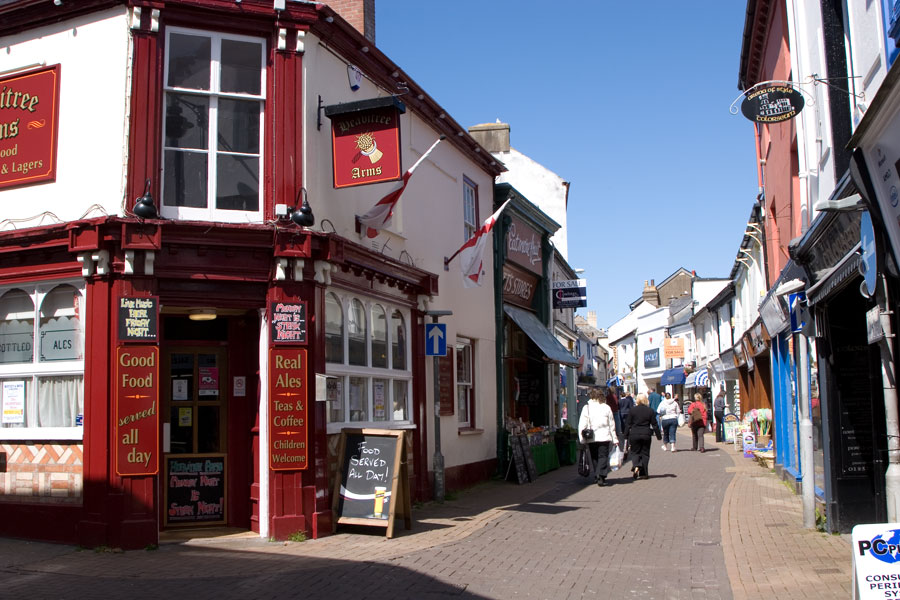 Not entirely free, but my family can easily spend an hour or more wandering up through from the quayside where the Air Ambulance charity shop is, then around into Mill Street and working our way through each of the shops.
There is a really good mix of shops in Bideford. One of my favourites is the hardware store called "Blanchards Home Hardware". It's like a tardis in there! And just across the street is a cafe called "Cool Beans Café" that does the best cake, ever and they're dog friendly too.
And just for clarity, do carry on up "High Street" as you come off the Bideford Quayside. There are loads more shops just up the hill and the pound store is dog friendly too (hence the special mention!) and there is the famous Bideford Pannier market (which we cover at the end of this guide).
Tarka The Otter
This one is definitely for the kids and probably the older kids too. If you remember the book or the film, then you'll know about the famous otter called "Tarka" from the book by Henry Williamsons.
You can learn more about Tarka the Otter here
Here in Bideford, we have the Takra trail that goes right through the town, but on the quayside, there is a bronze statue of this cheeky otter.
And did you know that if you're 6 or younger if you stroke him gently, he has been known to purr? Really! Try it! He loves it.
Appledore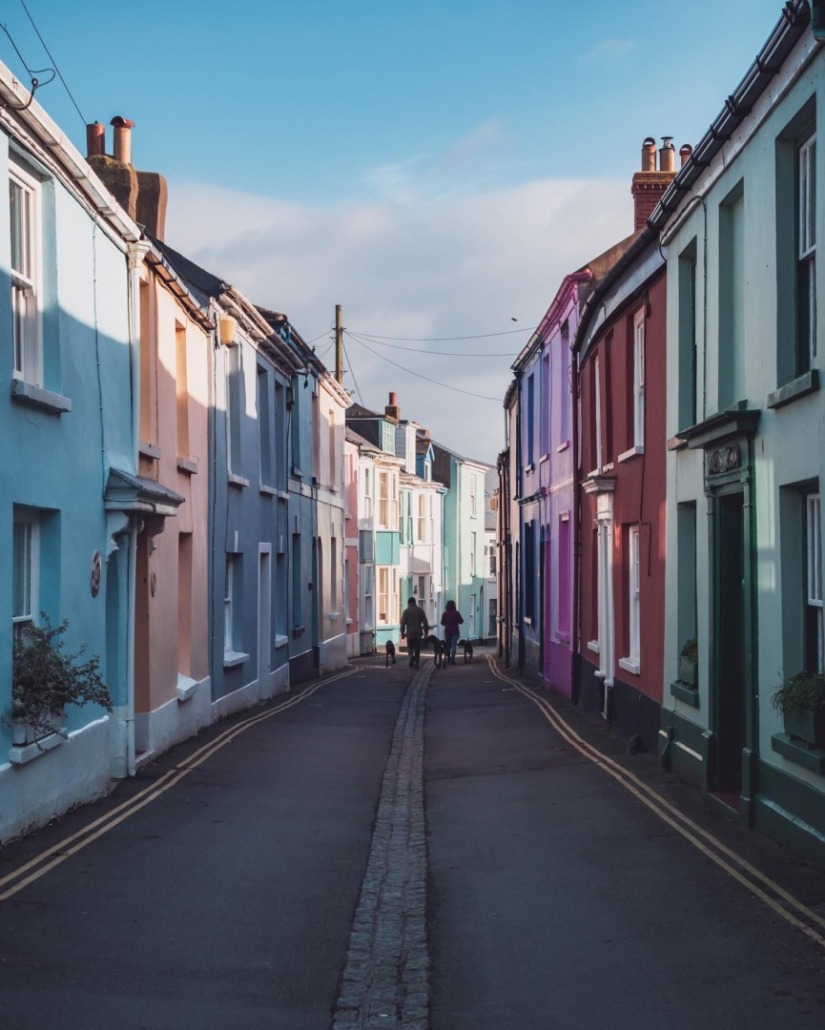 Appledore, just a few minutes away from both Bideford and Westward Ho! is a stunning seaside village whose back streets always produce something you didn't spot last time.
If you park either on the street for free or in the north carpark, the back streets of Appledore are to the North, just follow your nose out of the back of the carpark, past the church on the hill and adventure your way through the extremely quaint little back streets.
Tip: Try and find the hidden house called "Dolls House"
You can work your way all the around to the Northam Burrows (covered below) if you're into walking. Just go past the RNLI building and keep going!
There are cafes, pubs, shops and art galleries hiding in all the back streets. It really is an amazing little village to discover hidden away things in.
Back at the carpark is a play park for the kids, an EV charging point and public toilets (the carpark also caters for motor homes too). The coffee back on the main quayside in Appledore in the cafe below is amazing.
Featured Places to Stay Near Bideford
Best Sunny Day Things to Do
Again you are massively spoilt for choice when the sun is out in Bideford, but we are relaxing the boundaries a little here and including two beaches in Bideford!
Everything is so much easier on a dry day, even better if it's sunny in Bideford.
Instow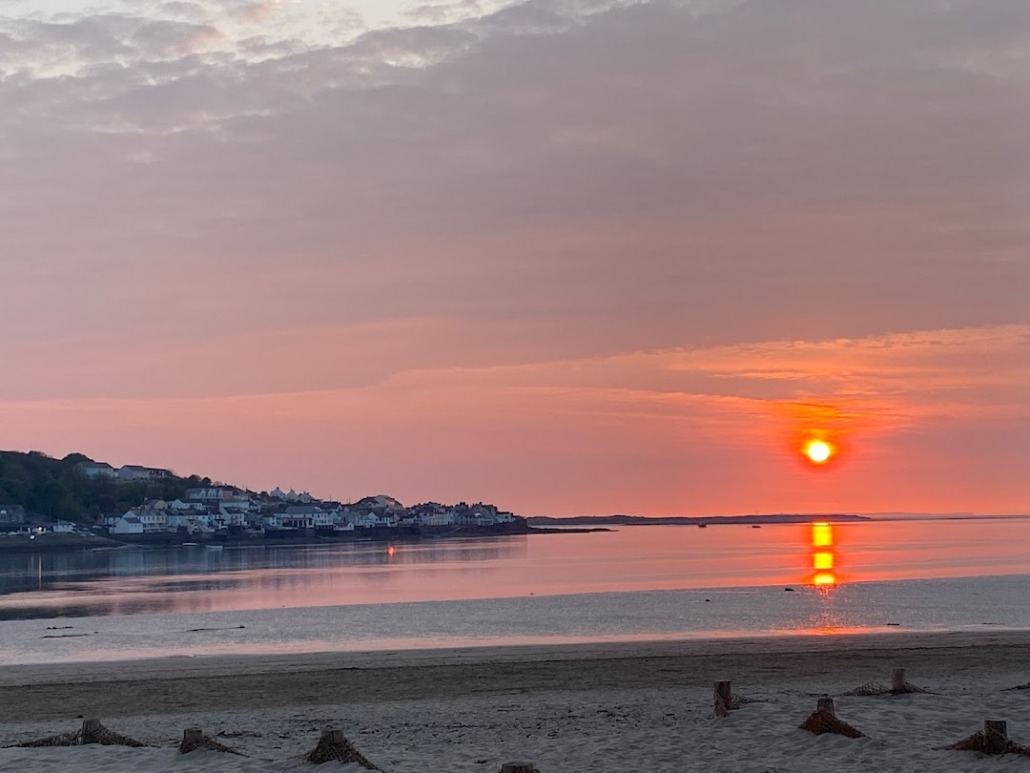 Instow Beach is so rustically beautiful. As dog owners, we love any beach that allows dogs on it and Instow is a dog-friendly beach (see the signs at the south end of the beach).
We recently spent a few days in North Devon and we actually woke up to the view across the bay from Instow. It wasn't far off the photo above in the evening as the sun went down.
Oh and that village across the water, that's Appledore which we just mentioned.
Parking is free for an hour all along the beach's edge at Instow, plus there are carparks at either end of the main stretch of the beach. There are also 3 public toilets nearby and three pubs to enjoy the evening in.
There is a little cafe in a hut called "The Galley" which is open all year round placed outside the Commodore Hotel. The coffee is amazing and the lady is really nice. We even recently had pizza in the place next door to the cafe.
sadly its not advisable to swim at Instow, paddle yes, swim not so much as after all it is the River Torrige still which is water that makes its shorelines. However, it is the best beach to build sand castles on and there are sand dunes at the North end to explore.
Westward Ho!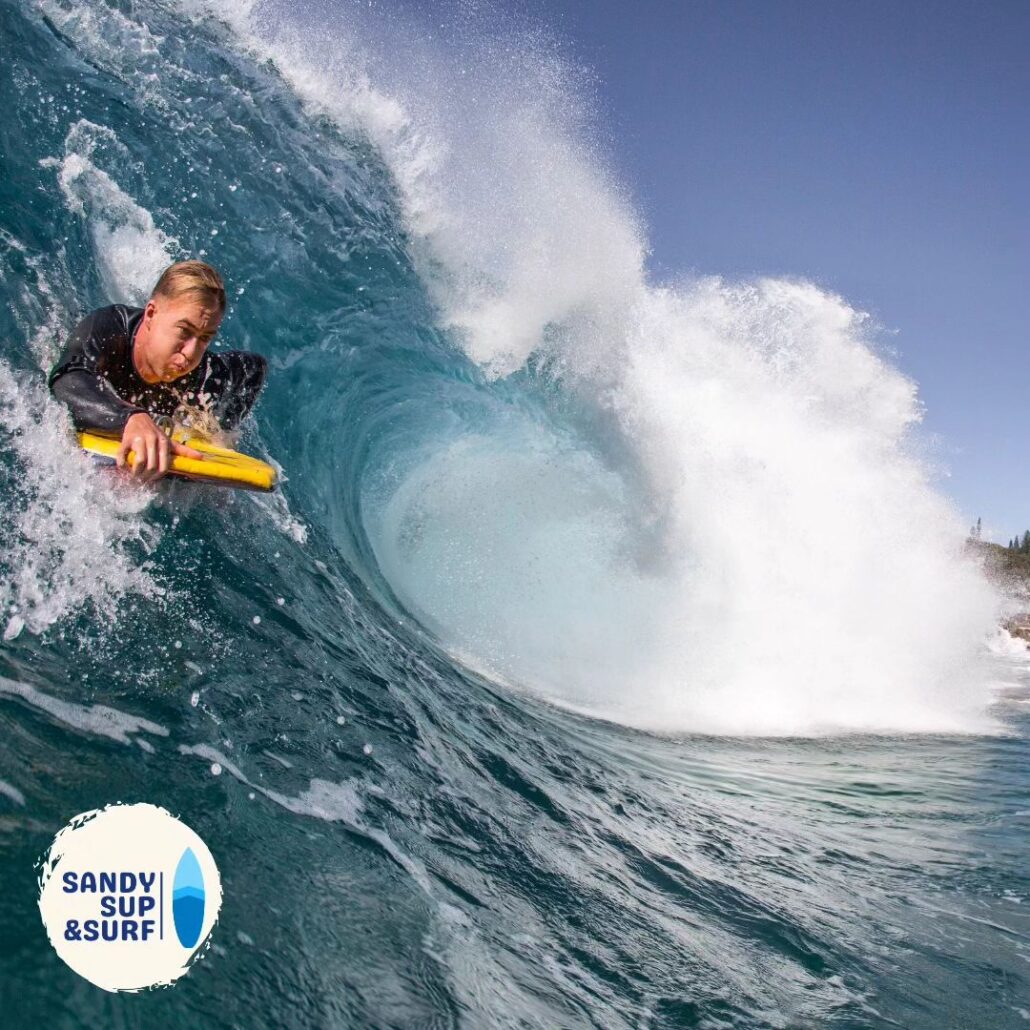 Just 10 minutes away by car from the centre of Bideford is Westward Ho!
Westward Ho! is the only town in the entire UK that has officially got an exclamation! mark in its name, all thanks to Charles Kingsley's book by the same name. There is even a statue of him in Bideford by the park.
Parking at Westward Ho is behind the cobblestones (more like boulders!) is managed by the local council and costs around £6 for the day which helps go towards to upkeep of the Northam Burrows and local facilities.
The beach itself seems to go on for miles and it stays shallow in the sea and predictable for what feels like miles and miles as the tide goes out (why it's amazing for surfing here).
Dogs are allowed on the beach, but from the railway sleepers northbound in the summer, the entire beach in the winter. See here for a map of dog-friendly Westward Ho!
You can walk all the way north along the beach around to the Grey Sands beach at the top or come back into Westward Ho! which has an amusement park a couple of cafes and a Tesco at the south end, plus a quaint, but very busy little "high street" on a road called "Nelson Road".
Oh and if you want to keep the kid's imaginations fed, there is a haunted house in the carpark at the far east end of Westward Ho!
Surfing
A continuation of Westward Ho! is that it's an amazing place to surf or learn to surf too. In fact, the whole of the North Devon coast has some of the best beaches in the country.
Just recently myself and the daughter had a two-hour session with James who runs a local surf school called "Sandy Sup & Surf". It was sooo much fun, even in April when the water felt like -10C!
Just like the other beaches nearby which are Saunton Sands, Croyde, Putsborough and Woolacombe. The beach tapers off slowly and they are all fantastic places to surf, bodyboard or just have a paddle in.
Nearly all of the above have lifeguards on duty during the summer months too, perfect for families (Putsborough does not have any lifeguards).
Northam Burrows
Free during the winter and a couple of quid to park in the summer, the Northam Burrows is such a peaceful, beautiful place. It's made up of grass, sand dunes and marshland behind the cobbles at Westward Ho!
From the carpark areas on either side of the road, you'll often see sheep roaming around freely, even horses too. Along the sea edge, you'll find squillions of sea shells to pick up and make things with.
Around the edge, you'll find the sand dunes and stunning views back over to Instow and down the River Taw. Crow Point is just across the water too.
Keep going and you'll end up on Grey Sands Beach which is the North end of Westward Ho! Beach. It's a fantastic walk all the way around the coastline.
Dogs are of course allowed too, but remember there are sheep and horses roaming wild on the burrows, so act responsibly.

Related Post:
Discover North Devon's Best Surfing Beaches
Best Rainy Day Things to Do
As a parent, I know first-hand how important it is to have a couple of options tucked away if the weather is not great hence these are a couple of easy options in Bideford for a rainy day.
Milkyway Adventure Park
I cannot rate this place any more highly as we've been there loads with the family as the kids have grown up over the years.
This place works both on good weather days, bad weather days and those iffy days in between. There is so much to do and fun to be had here.
We must have been on the bumper cars a million times and worn out "Ziggy's Blast Quest" lazers. We've yet to see a bird of prey demonstration, mostly because we've been so busy with everything else that they have there.
They even let the "big kids" (adults) down the sliders too. YAY!!!
Affinity Shopping Village
If you're a dad who is reading this and it's raining…
Take advantage of the free parking in the huge carpark (come in turn left). Take the family in through the main entrance and say "I'll be in the coffee shop" and turn right and just leave them to it.
There are loads of shops to keep them entertained for ages and then wander off to either of the coffee shops to the right. Job done, pat yourself on the back, you've done well. Cake it is!
Bideford Library
Seriously a library? Yep, totally.
Free entry, works on all days and my family likes a good read. Plus the staff here are notable, as I've been in there with them numerous times and they're always super nice and welcoming.
Plus if you check their website, they have frequent events during the week that cover all ages, literally from preschool to adults. Some even include free biscuits and tea.
Bideford Pannier Market
And finally, the last thing to do in Bideford, no matter the weather is the historic Bideford pannier market built in 1884.
The indoor market is made up of over 30 independent stalls with a diverse range of goods and houses some right characters when you start chatting with the stall owners.
The BEST Things to do in Bideford
So there we have it, all the BEST things to do in Bideford.
I'm really glad I've written his guide for you as the other one I saw was nothing more than just a list and no background to any of the places and half of the above were not even mentioned.
It really does not matter if you're here in Bideford for the day, a week or if it's raining or summer sunshine, Bideford has an arsenal of things to do for adults and kids too.
From all the free things we've covered such as the Tarka otter, splashing around in the paddling pool at Victoria Park. Dumping the family off in the Affinity outlet and then going to get a cuppa, to surfing at Westward Ho!
You can watch the sun go down over Appledore from Instow or find the hidden houses in the backstreets of Appledore and even go on as far as the Northam Burrows.
Young or old, Bideford has something for everyone. Enjoy!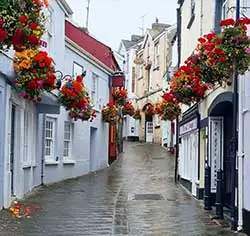 Maximise Your Bideford Adventure!
Our newsletter is packed with helpful tips and resources to help you mazimise your time in & around Bideford. Sign up now and join our community of savvy Bideford'ers.
About the Author
Welcome to Bideford.com! I'm Matt, a seasoned explorer and avid fan of Bideford and the broader North Devon area. With over a decade of consistent family visits, virtually every weekend, I've immersed myself in the rich history and vibrant culture Bideford & North Devon.
On this site, you'll find a wealth of knowledge amassed from my adventures here. From in-depth local guides to engaging blog posts about Bideford. Whether you're looking for recommendations on things to do or guidance on where to stay we have you covered. Join me as we delve into the heart of Bideford, North Devon – a town that's more than just a destination, but an experience waiting to be discovered.
Do you want to see your favourite Bideford attraction, place to stay, event or activity listed here? Contact Us!