If we strictly stay in Bideford, how do we phrase this… Bideford does not really have any form of "beach" that you would want to get on to, let alone try and make a mud castle from it.
There is a HUGE, however!
We are totally spoilt for beaches around Bideford and we've listed them all below for you, they all have their plus points.
But first, no beach in Bideford?
Bideford Has No Beach
Bideford is best described as a "port town", rather than a "beach town" when it comes to sandy shores and what are both thinking about a beach for the dog to run up and down, sand castles and for a dip in the sea.
If we stick within the boundaries of Bideford itself by taking a look at the screenshot from Google Maps below. You'll see for Bideford, there is no beach.
In theory, you could set up a towel bucket and spade on the quay by the steps at the North end by the carpark, even at the East end of the Bideford long bridge, but frankly speaking, it's full of mud from the river Torridge and nobody in their right mind would ever do that.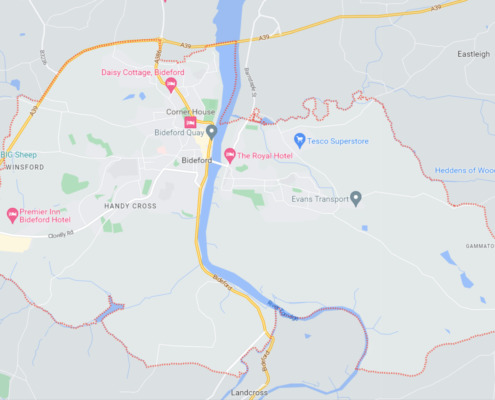 All The Beaches!
Although Bideford itself doesn't have a beach, we are fortunate to have several stunning beaches within a 10 to 30-minute drive, most of which are considered the best in North Devon.
We've visited all of these beaches ourselves, and each one has its own unique advantages. However, some of them do have a few downsides, such as Croyde not allowing dogs year-round, or say Woolacombe being further away from Bideford.
Nonetheless, they are all definitely worth the drive, especially in a particular case which we'll discover shortly.
Instow Beach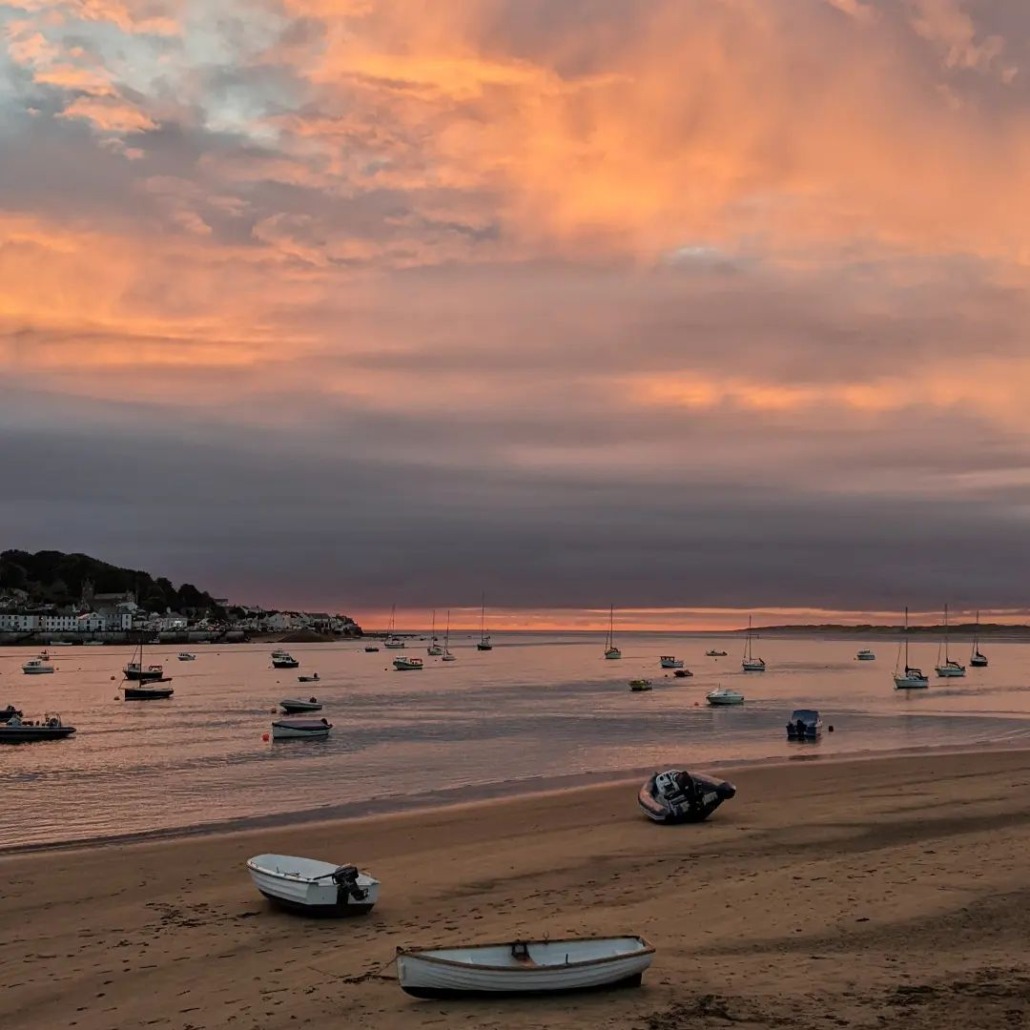 The closest beach to Bideford is located in Instow, which is just a 10-minute drive away.
Simply cross over Bideford's Long Bridge and turn left, following the road all the way up, and you can't miss the sign posts for Instow Beach as you go down the small hill.
What we love most about Instow is its raw, natural beauty.
Instow Beach is the absolute best place to sit and watch the sun go down while enjoying a bite to eat on the opposite side of the river, and of course, seeing the sun set over Appledore and Bideford.
In Instow, there are several car parks available. You can park along the seafront itself, before the seafront, and up at the North end.
Another thing we appreciate about Instow is that it's dog-friendly for most of the year. There are only minimal restrictions when it comes to taking your dog up and down the beach, and that's probably why we love it (and it's sheltered more than say Westward Ho!).
Instow is not really a place for swimming at, a paddle yes. But it's still the river Torridge and that does not have the best water quality ever.
Westward Ho!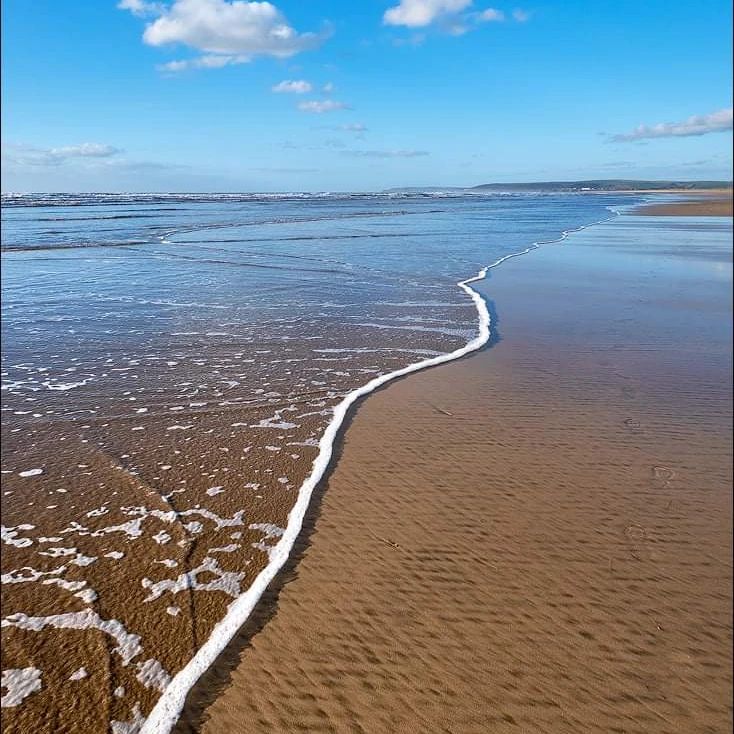 The next nearest beach to Bideford is Westward Ho, which is also approximately a 10-minute drive away from Bideford town centre.
It has an enormous car park located around the back of the large stone sea barrier.
Westward Ho is famous for its surf, and it's a fantastic spot to catch waves on a warm summer's day. You'll nearly always see surfers in the sea because it's so well-known for surfing.
At the south end of Westward Ho, there are some shops, an arcade, and a couple of cafes. There's also a Tesco but be warned that parking is time-limited, and you could end up with a ticket if you stay too long.
The southern end of the beach has rock pools, while the northern end is dog-friendly all year round. The beach seems to "go on for days", and you can end up at Grey Sands, which is another fantastic beach in its own right.
Grey Sands Beach
Grey Sands Beach is located at the northern end of Westward Ho.
As Westward Ho Beach travels northwards, it eventually turns into Grey Sands Beach as you come around to the east.
It's a magical place to visit in the evening as the sun sets or first thing in the morning.
It has no real facilities, but that's part of its beauty.
We would caution against swimming at Grey Sands Beach because of its location. Remember that we have the River Torridge, which enters or exits (depending on how you look at it) into Bideford here. Paddle yes!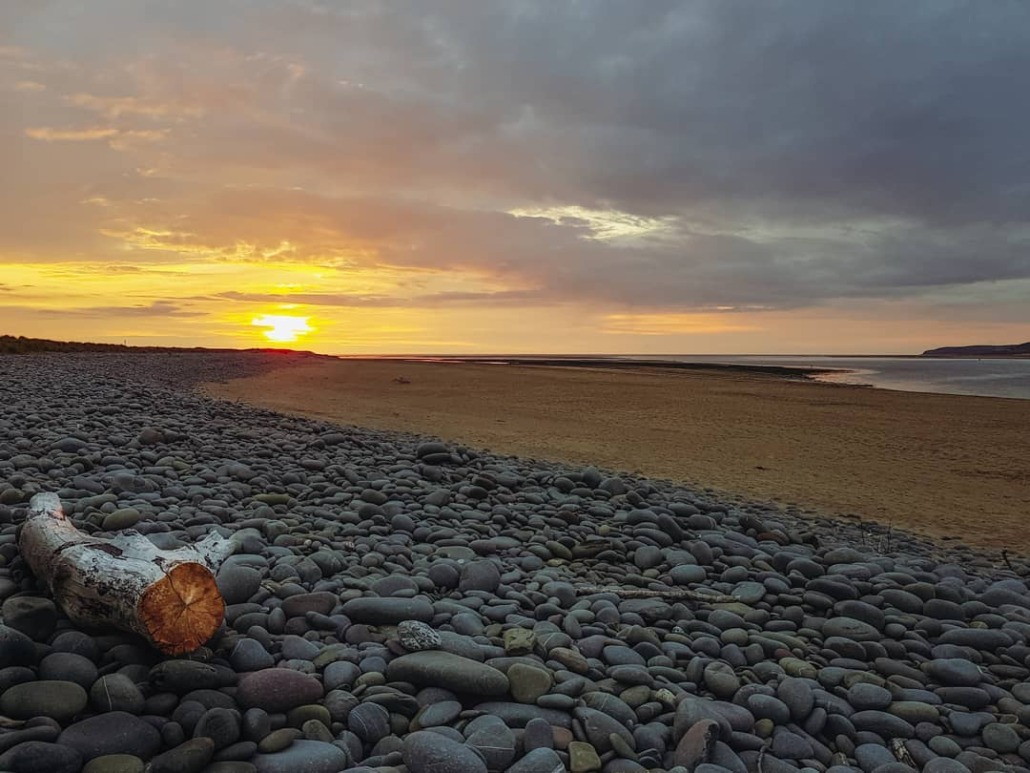 Featured Places to Stay Near Bideford
Saunton Sands
We love Saunton Sands because it's dog-friendly all year round.
It's also renowned for being one of the best places for longboard surfing because the surf there is just so dreamy. If you have a longboard, that's the best way to explain it. If you're a surfer, you'll know what I mean.
Saunton Sands is perfect for families, and they have a huge car park on-site.
There are also facilities like toilets, a shop, a restaurant, and a little café available.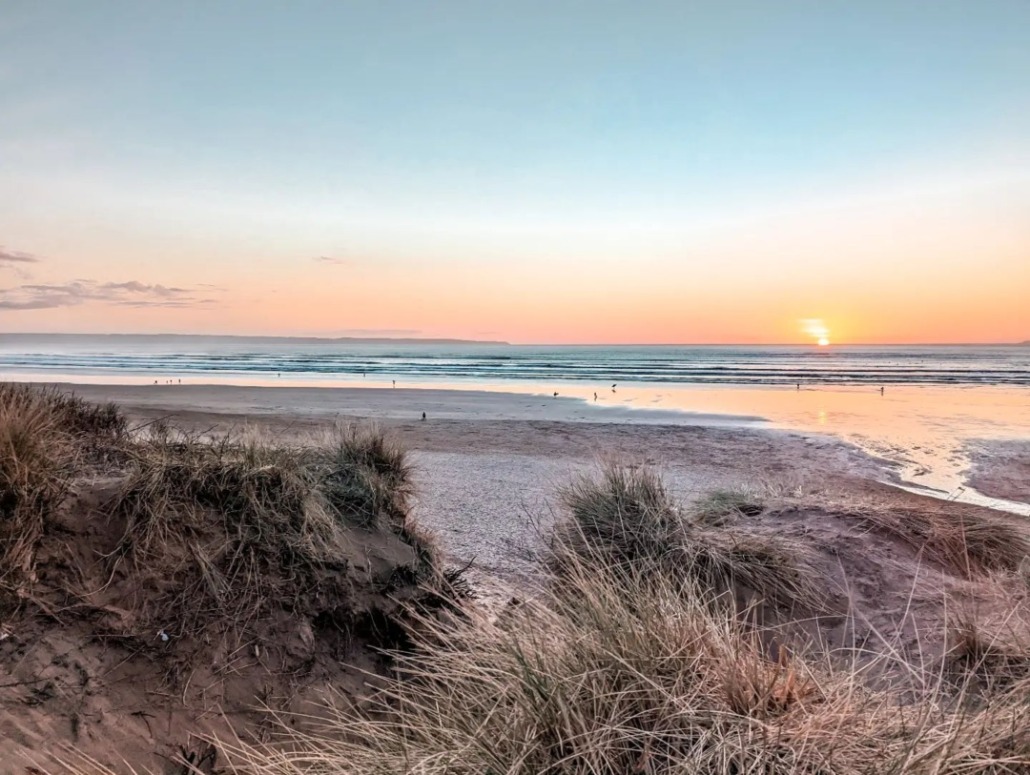 Related Post:
Victoria Park, Bideford: Comprehensive Guide 2023
Croyde
Croyde Beach is mainly meant for advanced surfers, so if you're a surfer, this may not be the best beach for you compared to other options in the area.
However, if you're looking to dip your toes into the water with a bucket and spade, Croyde is a fantastic place to visit.
One word of caution is not to take a long-wheelbase van to the National Trust car park on the north end because the roads are really tight. Instead, you'll want to park at the car park on the south side of Croyde.
Like other beaches in the area, Croyde has facilities such as toilets and a nearby café. Croyde Beach is not dog friendly all year around, in the summer months they are only allowed on the sand dunes at the rear of the beach.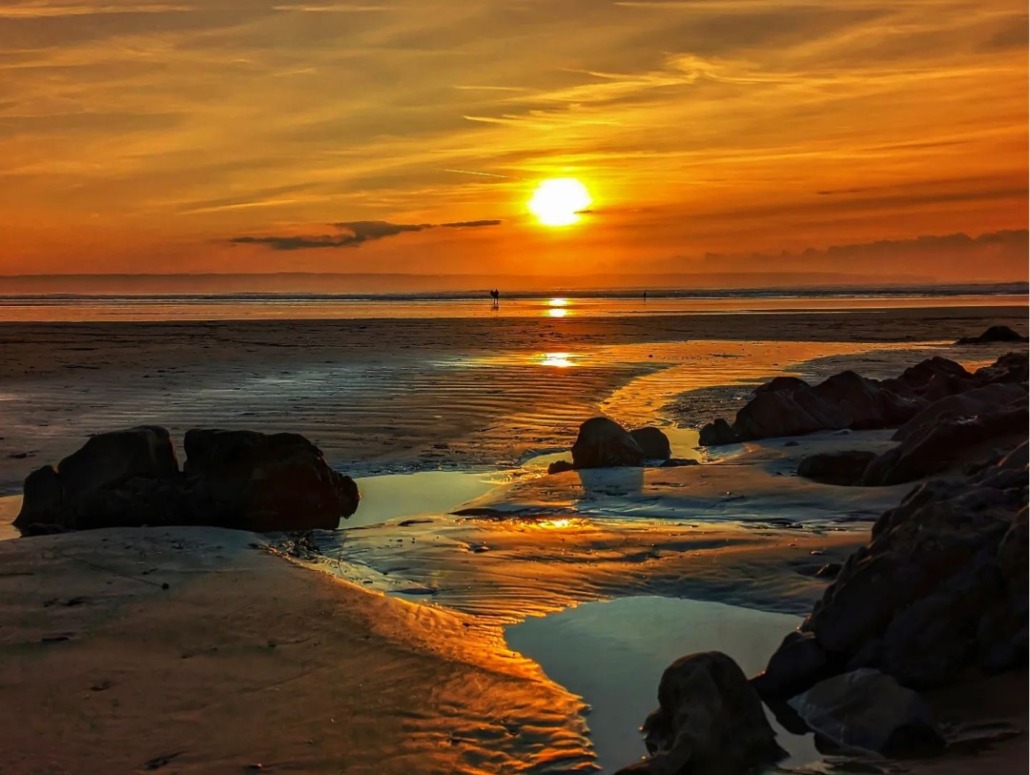 Woolacombe Beach
Woolacombe Beach is my personal favorite beach in all of North Devon.
It's absolutely amazing during the summer, and my family and I have all enjoyed bodyboarding and swimming in the sea there.
There's a café called the Beachcomber Café right on the beach, places to get ice creams and there are two sets of toilets and a quaint shopping area around the back as well.
Another thing we love about Woolacombe is that it is dog-friendly.
Just be aware that dogs are not allowed on the North End of the beach where a stream marks the boundary. However, dogs are allowed on the south part of the beach but do check the signs because they do change for different seasons. You can take your dog to the very North end of the beach during the winter months.
Out of all the beaches, Woolacombe has the best availability for parking.
There is on-street parking to the North End, but make sure to get a ticket from the machine or pay via an app. There is also a car park right on the beach that you can't miss, and two other car parks at the South End. The first one is a huge car park with plenty of space, especially during the summer. There is also another car park up on the coastline, but it requires the longest walk down to the beach and may not be suitable for those who can't walk very far or have a lot of things to carry to the beach.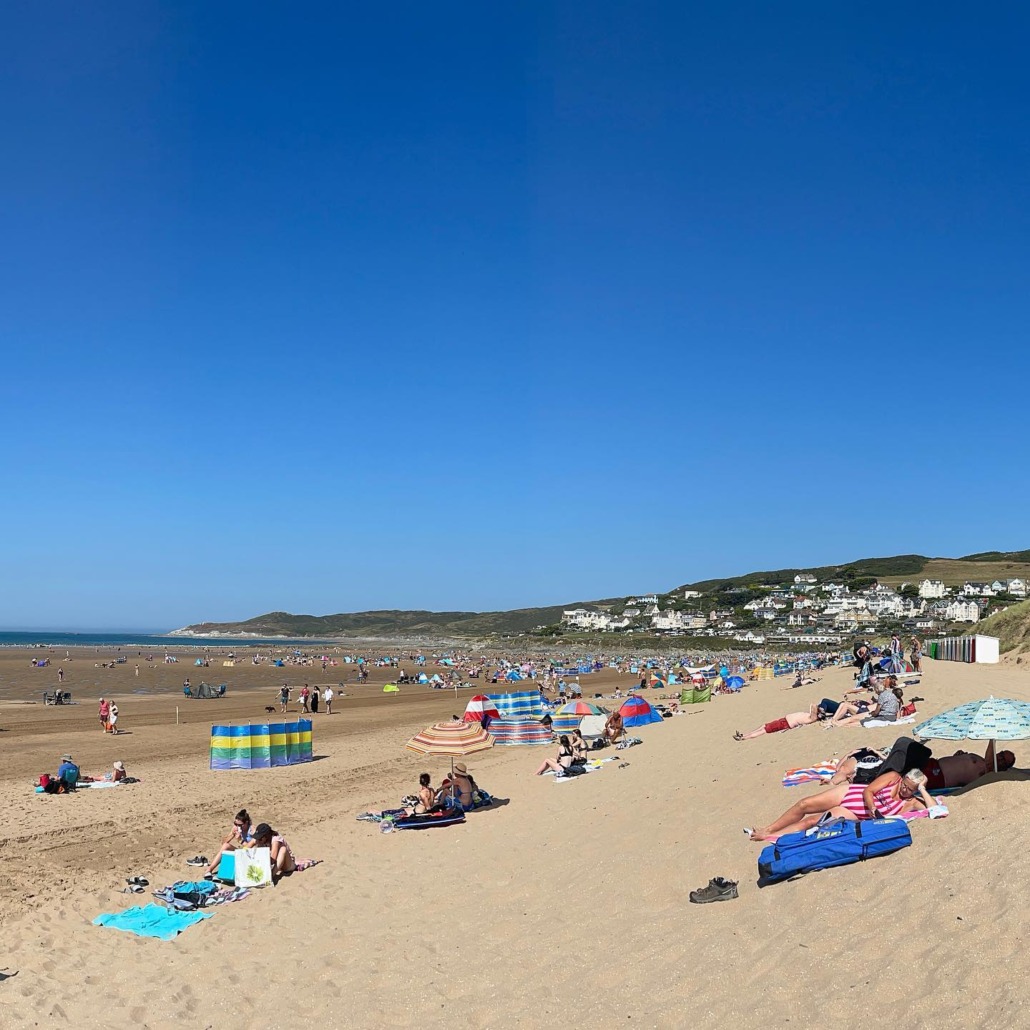 Combesgate Beach
This is the last beach that we would not personally consider to be "close" to Bideford, but its just around the corner from Woolacombe and that's Combesgate Beach.
Combesgate Beach can be much quieter than the main Woolacombe Beach, which gets very busy during the summer months.
If you're looking for a quieter beach and have kids who want to hunt in rock pools, this could be a great option for you.
However, we must add that Woolacombe does have lifeguards on duty during busy times, and if you have a family, I would strongly suggest going to the main Woolacombe Beach instead because of this.
Crow Point
We're including Crow Point because, well, it's not as nice as some of the other beaches we've mentioned in this list, but for completeness. If we consider facilities and where to swim or surf as key factors, beauty, well Crow point has this in spades!.
Crow Point is definitely a place where you can set up with your family for castle building or if you just want somewhere quiet. It's not the best place to go swimming though.
However, crow point Bideford is a fantastic place if you just want to sit on the beach and feel the sand between your toes, and take your dog for a walk up and down the beach.
There's a long, long path there, and it can be absolutely beautiful first thing in the morning or as the sun's going down. Crow Point is a great alternative place to take your dog for a walk in the evening.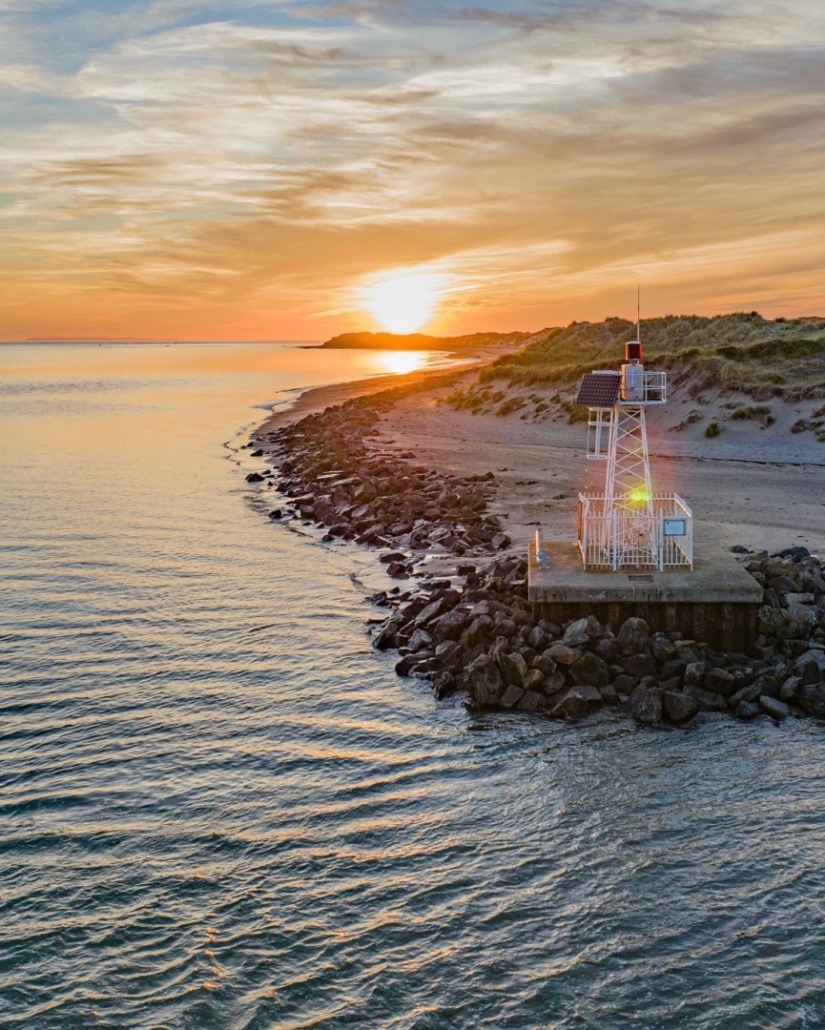 So Bideford Has No Beach
You may have been disappointed and thought, 'Oh dear, Bideford has no beach.'
Well, actually, Bideford is perfectly located right next to many of the best beaches in North Devon. Plus we cannot overlook the quaint back streets and everything that you can do in Bideford. See our "things to do" directory for ideas.
Woolacombe is definitely a personal favourite of mine and my family because of the amount of time we've spent there.
It's approximately 35 ish minutes away, depending on traffic. If you're staying in Bideford for a week, we would definitely suggest spending time there and taking advantage of the beach and the quaint little shops.
And don't forget, Ilfracombe is just a few minutes away from Woolacombe as well, so do pop up there and spend some time. It's just another beautiful part of North Devon (THREE! ice-cream shops in the harbour).
If you're a surfer, then the only word of caution is for Croyde Beach, which is definitely meant for advanced surfers. Unless you take advantage of a low tide or a high tide that tames the rip current a little bit, it may not be suitable for novice surfers. However, it's absolutely fantastic for families.
So there we have it. Bideford has no beach of its own unless you want to play in the mud (which none of us do, urhh!). Instead, we have so many beaches within a stone's throw away.
Our family has even been known to visit multiple beaches in one day because they're so close. With that said, we sincerely hope that this post has helped you in grabbing your bucket and spade and enjoying the sunshine and all the beaches around Bideford.
If you're thinking about coming to Bideford and need somewhere to stay, see our "Where to Stay" section of the site. We have everything from campsites, B&B, pods, lodges, hotels and the quaintest of backstreet Bideford cottages
Frequently Asked Questions About Bideford Beaches
Q: Does Bideford have a beach?
A: No, Bideford is a port town and does not have a beach for activities like swimming or building sandcastles.
Q: Are there any beaches near Bideford?
A: Yes, there are several stunning beaches within a 10 to 30-minute drive from Bideford.
Q: Which is the closest beach to Bideford?
A: The closest beach to Bideford is Instow, which is just a 10-minute drive away.
Q: Which beaches are dog-friendly?
A: Instow, Saunton Sands, the northern end of Westward Ho, and the south part of Woolacombe Beach are all dog-friendly.
Q: Which beach is best for surfing?
A: Westward Ho is famous for its surf, but Croyde Beach is also popular among advanced surfers.
Q: Which beach is best for families?
A: Saunton Sands, Westward Ho! and Woolacombe are perfect for families and they have facilities like toilets, a shop, a restaurant, and a little café available.
Q: Is it safe to swim at all the beaches?
A: Some beaches, like Grey Sands Beach and Croyde Beach, may not be suitable for swimming due to their location and water quality. However, most beaches are safe for paddling and other water activities.
Q: Are there any facilities available at the beaches?
A: Most of the beaches mentioned in the post have facilities like toilets, cafes, and shops available.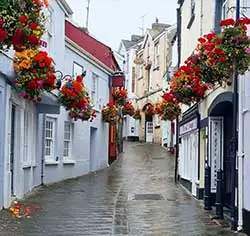 Maximise Your Bideford Adventure!
Our newsletter is packed with helpful tips and resources to help you mazimise your time in & around Bideford. Sign up now and join our community of savvy Bideford'ers.
About the Author
Welcome to Bideford.com! I'm Matt, a seasoned explorer and avid fan of Bideford and the broader North Devon area. With over a decade of consistent family visits, virtually every weekend, I've immersed myself in the rich history and vibrant culture Bideford & North Devon.
On this site, you'll find a wealth of knowledge amassed from my adventures here. From in-depth local guides to engaging blog posts about Bideford. Whether you're looking for recommendations on things to do or guidance on where to stay we have you covered. Join me as we delve into the heart of Bideford, North Devon – a town that's more than just a destination, but an experience waiting to be discovered.
Do you want to see your favourite Bideford attraction, place to stay, event or activity listed here? Contact Us!