Bideford Bay Holiday Park is the perfect destination for a fun and relaxing holiday. With a wide range of facilities, including swimming pools, playgrounds, sports courts, and restaurants, there's something for everyone to enjoy.
Key Takeaways
Bideford Bay Holiday Park offers a wide range of facilities and activities to keep guests entertained.
The location of the park, found within the North Devon countryside and close to the coastline, provides easy access to nearby attractions and landmarks.
The park offers a variety of accommodation options, including caravans, lodges, and chalets, to suit all budgets and preferences.
The range of facilities and activities at the park includes swimming pools, playgrounds, sports facilities, and entertainment options such as live music and cabaret shows.
Nearby attractions include Westward Ho! Beach, The Big Sheep family attraction, and the unique fishing village of Clovelly.
The park offers a jam-packed schedule of activities and entertainment, from kids' clubs and live music to sports tournaments and themed nights.
Come and experience the never-ending fun at Bideford Bay Holiday Park, located in the beautiful coastal town of Bideford in Devon.
Location and Surroundings
Bideford Bay Holiday Park is situated in an idyllic location, nestled within the rolling hills of the North Devon countryside and just a stone's throw away from the stunning coastline.
The park is conveniently located just a few miles from the charming town of Bideford, where you can explore the narrow streets lined with independent shops, cafes, and restaurants.
There are also plenty of nearby attractions and landmarks to discover during your stay at Bideford Bay Holiday Park. The park is just a short drive away from some of the UK's most beautiful beaches, including: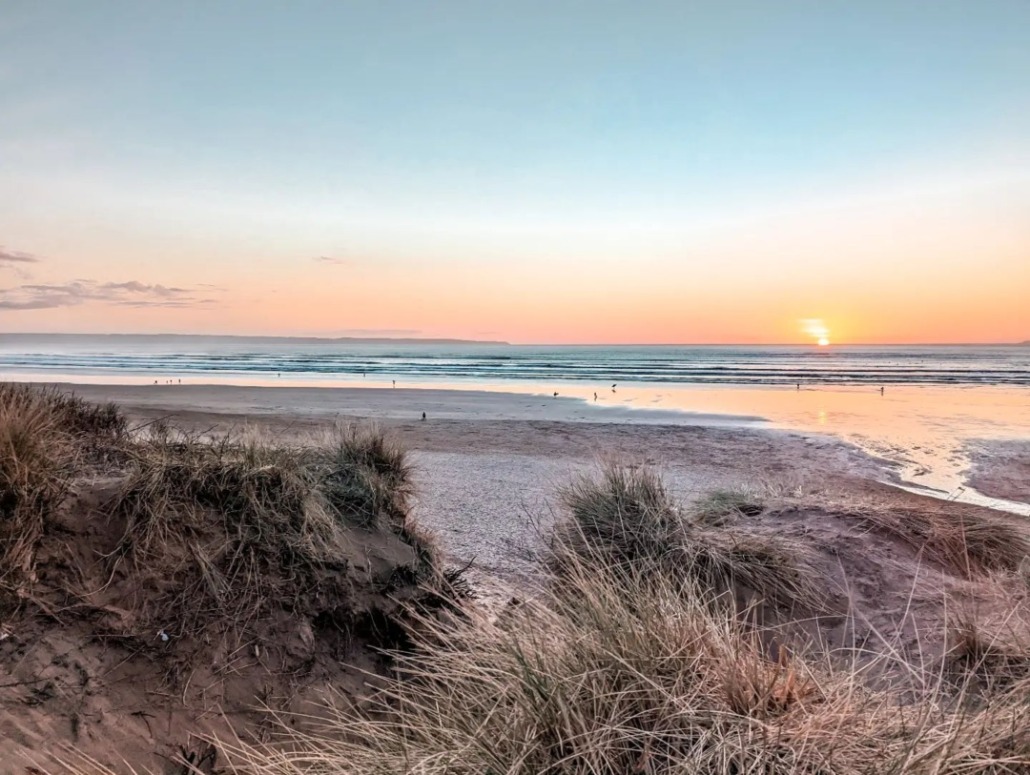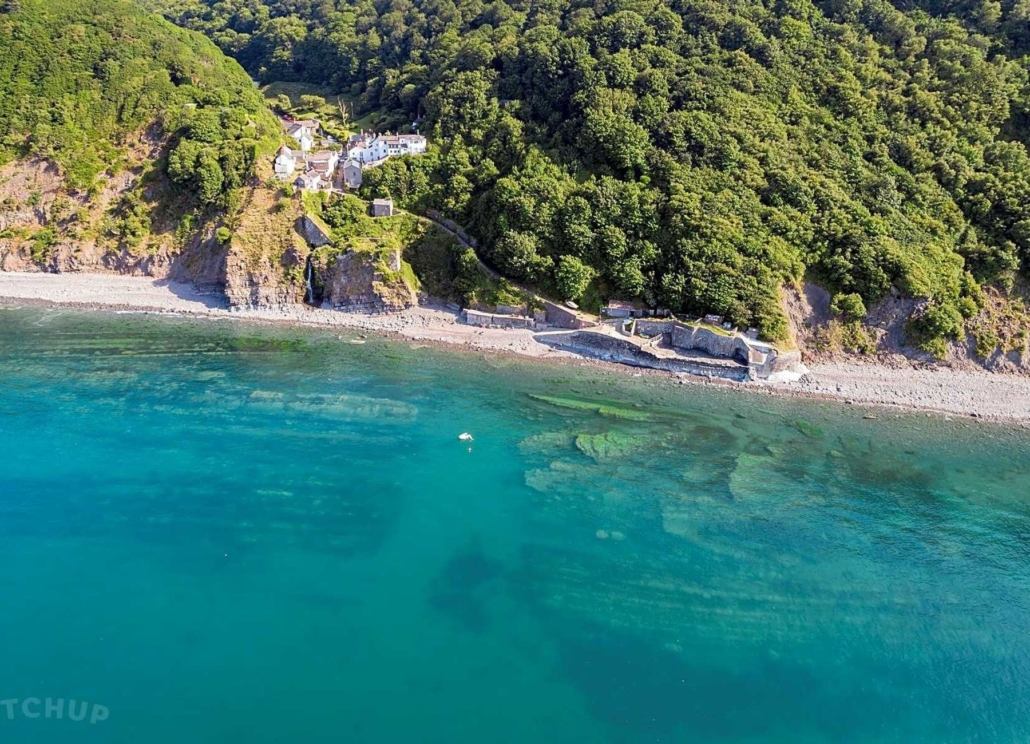 If you're looking to explore the local area further, why not visit one of the many nearby attractions? The Big Sheep, a popular family attraction, is just a short drive away and offers a range of activities and entertainment for all ages.
Alternatively, you could take a trip to the stunning Clovelly Village, a unique and beautiful fishing village with cobbled streets, whitewashed cottages, and stunning views across the bay.
From the rolling hills and lush green countryside to the rugged coastline and golden sands, Bideford Bay Holiday Park is truly a place of outstanding natural beauty.
Accommodation Options
Bideford Bay Holiday Park offers a wide range of accommodation options to suit all budgets and preferences.
Whether you're travelling solo, as a couple, or with a large family, you'll find the perfect accommodation at Bideford Bay Holiday Park.
Caravans
These are a great choice for those on a budget, and they offer all the essential amenities you need for a comfortable stay. Standard caravans typically come with two or three bedrooms, while luxury caravans may have extra features such as en-suite facilities, decking, and stunning views.
Lodges
These are spacious and comfortable, with all the mod cons you need for a relaxing holiday. You can choose from a range of different lodge types, including two-bedroom, three-bedroom, and four-bedroom models.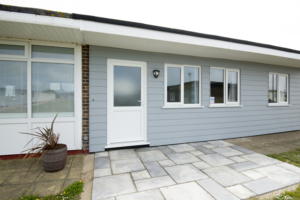 Some lodges come with extra features such as private hot tubs, balconies, and panoramic views across the surrounding countryside.
Chalet
These ones, two, and three-bedroom wooden lodges offer a well-equipped kitchen, living area with TV, and outdoor decking with seating, with some Chalets featuring private hot tubs.
Surrounded by trees and greenery, the Chalets offer a secluded feel while still being close to the main park facilities, making them ideal for couples, families, and groups looking to explore the beautiful Devon countryside.
From fully equipped kitchens to comfortable living spaces, Bideford Bay Holiday Park has everything you need for a relaxing and memorable holiday.
Featured Places to Stay Near Bideford
Facilities and Activities
Bideford Bay Holiday Park offers a wide range of facilities and activities to keep you entertained throughout your stay. From swimming pools to playgrounds, there's something for everyone to enjoy.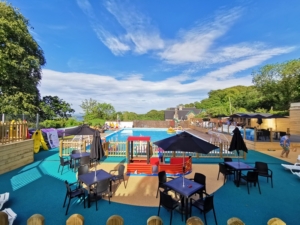 Swimming Pools
The indoor pool is heated and has a flume, while the outdoor pool offers stunning views across the surrounding countryside.
Playgrounds
There are several outdoor play areas throughout the park, including adventure playgrounds and a soft play area for younger children. There is also a games room for older children, with arcade games and pool tables.
Entertainment
From live music and cabaret shows to bingo and quiz nights, there's always something going on. The park also offers a kids' club with a range of fun activities for children of all ages.
Sports Facilities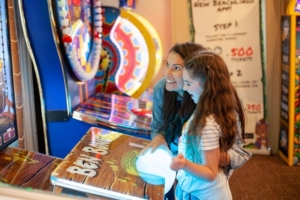 For those who love sports, there are plenty of facilities to choose from, including a multi-sports court, a tennis court, and a football pitch. There are also outdoor fitness areas for those who like to stay active.
Other Facilities
Bideford Bay Holiday Park also has a range of other facilities, including an on-site restaurant, a convenience store, and a launderette. There is also a fishing lake and woodland walks, providing an ideal opportunity for guests to take a stroll or explore the local area.
From fun-filled activities for children to relaxing facilities for adults, there's plenty to keep you entertained throughout your stay.
Local Attractions
Bideford Bay Holiday Park is located in the heart of North Devon, with a wide range of local attractions just a short drive away.
Here are some of the top attractions you might want to visit during your stay:
Just a short drive from the park, Westward Ho! Beach is a long, sandy beach that's perfect for a day out with the family. The beach has plenty of facilities, including cafes, shops, and toilets, and is ideal for swimming, sunbathing, and building sandcastles.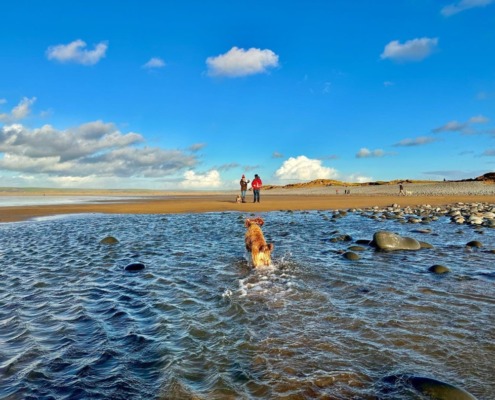 The Milky Way Adventure Park is an award-winning theme park that's perfect for families with young children. The park has a wide range of rides and attractions, including roller coasters, slides, and soft play areas.
Clovelly is a beautiful village located on the coast of North Devon. The village is famous for its steep cobbled streets, traditional cottages, and stunning views of the sea. Visitors can explore the village on foot or by donkey ride.
The Big Sheep is a family-friendly attraction that's home to a range of farm animals, including sheep, pigs, and goats. The park also has a range of rides and attractions, including a roller coaster, a maze, and a petting zoo.
Tarka Trail
The Tarka Trail is a 180-mile walking and cycling route that runs through North Devon. The trail takes you through some of the most stunning countryside in the area, including forests, rivers, and moors.
Testimonials
Don't just take our word for it – here are some comments from past guests who have stayed at Bideford Bay Holiday Park:
"Fantastic holiday park! The location is perfect, with beautiful views and plenty of local attractions to explore. The facilities are top-notch, with a range of swimming pools, playgrounds, and restaurants. We stayed in one of the lodges and were blown away by the quality – everything was clean, modern, and well-maintained. We'll definitely be back!" – Sarah T.
"We had an amazing time at Bideford Bay Holiday Park. The staff were friendly and helpful, the entertainment was great, and the location was perfect for exploring the local area. We stayed in one of the caravans and it was fantastic – clean, spacious, and had everything we needed. We especially loved the on-site pub, which had a great selection of beers and wines. Highly recommended!" – John P.
As you can see, past guests have had nothing but positive things to say about Bideford Bay Holiday Park. Whether you're looking for a relaxing break in beautiful surroundings or a fun-filled family holiday, Bideford Bay Holiday Park is a perfect choice.
We also included the latest reviews and details from Google on Bideford Holiday Park below.
Parkdean Resorts Bideford Bay Holiday Park, Devon Reviews
Below are the latest reviews of Parkdean Resorts Bideford Bay Holiday Park, Devon.
Based on 1810 reviews
Opening Hours
:
Monday:
9:00 AM – 6:00 PM
Tuesday:
9:00 AM – 6:00 PM
Wednesday:
9:00 AM – 6:00 PM
Thursday:
9:00 AM – 6:00 PM
Friday:
9:00 AM – 6:00 PM
Saturday:
9:00 AM – 6:00 PM
Sunday:
9:00 AM – 6:00 PM
Address: The Lodge, Buck's Cross, Bideford EX39 5DU, UK
a week ago
Absolutely fantastic.I first wanted to recognise one member of staff in particular, Lou who was our server and bartender was absolutely amazing. She made the best 'memories' on the beach cocktail pitchers in there, incredibly friendly and I hope she gets some recognition for this as she 100% made our stay far more enjoyable. Molly, one of the young servers there, was also very friendly and helpful.Stayed in one of the chalets and was very surprised, it was all newly fitted, very clean and lots of room. Mattress was very comfy and plenty of windows and light. Only very picky thing would be to have a shower mat outside the bath, particularly for older people but that's the only thing I would say could improve.You can do lots around the area, we drive no further than 20 minutes from site to do anything, well worth the trip and value for money. Hope to be back at this site sometime this year.
6 months ago
The caravan was beautiful, but had no direct access from the car parking area, except down a steep, muddy and wet slope. Very dangerous for the disabled child in our party for whom we carry lots of equipment.The worst thing about this park was the lack of any effort made by the staff/ entertainers. Regardless of the fact that it was the last week of the season, we still paid substantially for this holiday and were told upon arrival (on Halloween) that all the Halloween activities had been done the week prior as THAT was half term. Well Bideford Bay, we live in Wales where the week we stayed was half term! In the club that night, every child and some adults were in costume and the entertainer did absolutely nothing. In fact, the highlight of my children's night was when another guest dressed up as a dinosaur (his Halloween costume) and played with them on the dance floor. The one man who seemed to be responsible for entertainment was actually taking down the Halloween decorations around them!Six nights at Bideford Bay saw absolutely no effort made on the entertainment front and on the last three days even the small soft play area was closed off. We kept asking when the prize booth would be open, as the children had won tokens, and were told so many lies. It never opened all week.This was our main holiday after spending the first six months of this year (and nine of last) in hospital with our son, who is lucky to be with us. Staff at this site need to remember that they are dealing with people's memories. And Parkdean, if your staff can't be bothered to deliver the same service at the end of the season (I'm assuming it is usually better, but can't say for certain), then you shouldn't be opening and taking people's money.
7 months ago
The caravan it self was not so clean, it had dust everywhere and dirty dishes, there was holes in 2 places but the caravan was warm which was good for winter. The site it self was not good, very boring entertainment and activities only on weekends but even the weekday ones are very limited. The place is very outdated and needs some upgrade. But I enjoyed my stay it wasn't my worst holiday but I have been to much better caravan sites with parkdean resorts
a month ago
Really enjoyed this holiday park this weekend! Our accommodation was spotless & had everything we needed. Kitchen was VERY well equipped we even cooked a roast on the Sunday! (Only thing if I was being particularly picky would be a pair of tongs would be handy but every other utensil, pot, pan etc has been catered for) Shower was hot & powerful, very roomy caravan & we stayed in the Ebberly caravan, could easily & comfortably stay a week there. The double bedroom had brilliant & roomy wardrobe storage plus ensuite & a table & stool so you can sit & dry your hair do your make up etc, a place to put all your smellies in a caravan is priceless! Children's bedroom, comfy beds & fluffy soft pillows. Beds all comfy. lovely spacious lounge. Big fridge. Heating was lovely and warm. Would definitely choose this accommodation again.Evening entertainment, was well so-so. Good, not the best I have ever seen & we have been on many short breaks like this but the bar staff were very friendly & the entertainment well was entertaining, depends on your taste I suppose. Bingo – they need to make it clear on the screen which colour page you are playing on as the lady did not make it clear on the microphone, not just if it's a line or a full house.Food – we ate 2 evenings. One night the service was flawless, burgers were fabulous actually pizza was really tasty & served pretty quickly, second evening we waited over an hour and then 2 hours for our ice-cream for the children. Ice cream was served wrong with the young lady swinging a bottle of anti bacterial spray in her other hand & her cleaning materials, not so great. But could just be circumstance. Burgers still nice second night just a long wait.Swimming pool – whilst you cannot come and go in this pool as you like as size only allows for so many. We attended the pool party on Sunday & it was worth every penny. The children & the adults had SO much fun! The lads that run the pool party were so enthusiastic & really made it so much fun which for us as a group was priceless. Thanks to the team, Joe, Tom & Layton, Swimming on the Sunday & the lady with the colourful hair ( sorry I never caught her name) also was a great life guard she never took her eyes off the pool & swimmers for a second. The amount of times I have been to pool & the lifeguard is looking at their phones so this was a breath of freah air that in an emergency she would have acted.Great outdoor play park for the kids. Beautiful view when the sun shone. Ball pool needs a sign post on the door!! Little arcade there too. I wouldn't recommend it if you have mobility issues as on a steep hill but if you have someone that can chauffeur you up & down the hill you will be fine ;) Even I was out of breath up the hill sometimes. Friendly reception welcome & easy checkout.Defo stay again. ⭐
a month ago
The general cleanliness of our accommodation is OK, the sofas and carpets could do with a deep clean, but the kitchen, bedding, showers and bathrooms are clean. The static caravan we booked was not expensive during Easter, so we didn't have unrealistic high expectations of where we would be staying! It is certainly no frills! Bring hand towels for bathrooms, teatowels, and soap for washing hands. There's no coffee, tea, sugar, washing up liquid etc. There's a launderette on site and a shop selling most things you would need, but it's expensive. There's an Aldi and Asda 10 minutes down the road. The fridge and freezer are very small, so don't buy too much!Take care when booking, check that the beds are full size. We have a 10 and 7 year old in our place in Brackenwood and each bed in the twin room is almost half the width of a normal single. So their duvet invariably falls of during the night. It would be fine for up to 5 year olds I think.We have walked around the park and the more expensive accommodation looks really lovely from the outside, and from the pictures on the website it looks much more luxurious, but then you pay for that of course. Some have a sea view. The views of the sea from some parts of the resort are really lovely. And the resort is set amongst the trees which is a nice place to be. I believe you can walk down to the sea from here but we've not tried that yet,The reception, restaurant, pool, park and arcade area are all at the very bottom of the complex, so depending on where you are staying it's a pretty steep hike back home from there. If you have small people I definitely recommend a pushchair, or even driving down, we made the mistake of walking down the first time and our 18 month old needed carrying back up the hill half the way, it was hard work!The facilities are good, the park has a muga, zip wire, 2 baby swings, climbing frame for smaller children and one for older ones. There's a kind of obstacle course for bigger kids.Lots of activities are put on for the kids, particularly in the swimming pool. And there is lots to do in the local area. Overall we are happy, but I would try and book one of the nicer chalets next time.
See All Reviews
And Finally
Looking for a fun and relaxing holiday destination? Look no further than Bideford Bay Holiday Park! An idyllic park offers a range of facilities to suit all ages and interests.
Whether you're a fan of swimming, sports, or simply soaking up the sun, you'll find plenty to keep you entertained. With a range of accommodation options, from caravans to lodges, you can find something to suit your budget and preferences.
And with nearby attractions like The Big Sheep, Clovelly Village, and Westward Ho! beach, there's always something to explore.
So why wait? Book your next holiday at Bideford Bay Holiday Park today!
[drts-entity display="summary-featured" 0="id="2592" title="0""]
FAQs about Bideford Bay Holiday Park
Q: Where is Bideford Bay?
A: Bideford Bay is located on the north coast of Devon, in South West England.
Q: Who owns Bideford Bay Holiday Park?
A: Bideford Bay Holiday Park is owned and operated by Parkdean Resorts, a UK-based holiday park company.
Q: Does Bideford Bay Holiday Park have WiFi?
A: Yes, Bideford Bay Holiday Park offers WiFi access for its guests.
Q: What is Bideford known for?
A: Bideford is known for its historic port, its association with the author Charles Kingsley, and its beautiful countryside surroundings.
Q: Why is Bideford famous?
A: Bideford is famous for being the starting point of the historic Tarka Trail, a 180-mile walking and cycling route through North Devon.
Q: Does Bideford have a beach?
A: Yes, Bideford has a beach called Westward Ho!, which is a popular destination for water sports enthusiasts and families.
Q: Is Bideford worth visiting?
A: Yes, Bideford is a charming town with plenty of historic and natural attractions to explore, making it well worth a visit for those seeking a quintessential English holiday experience.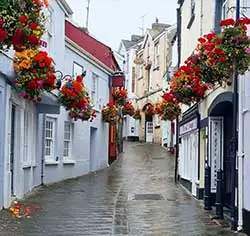 Maximise Your Bideford Adventure!
Our newsletter is packed with helpful tips and resources to help you mazimise your time in & around Bideford. Sign up now and join our community of savvy Bideford'ers.
Do you want to see your favourite Bideford attraction, place to stay, event or activity listed here? Contact Us!